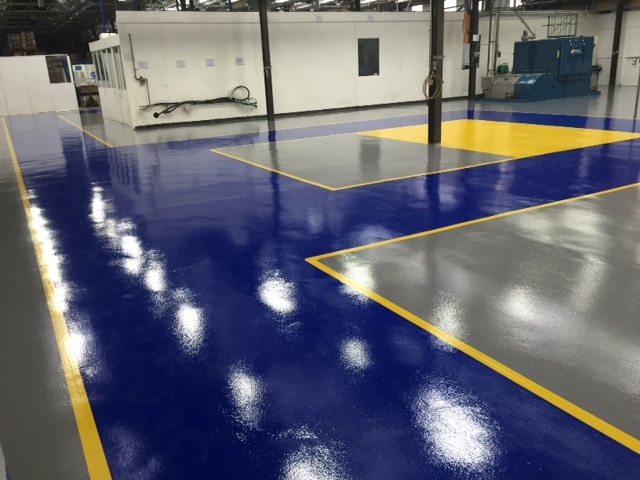 The UK's leading resin flooring specialist
What is the Importance of Factory Flooring?
All factory flooring has to be tough. It has to be able to stand up to the persistent weight of heavy equipment and constant footfall. Among the most commonly utilised materials in all types of construction, concrete can withstand factory usage better than any other type of flooring. It lasts for decades too. Here are some of the key traits, which highlight the importance of factory flooring that is relevant to your industry.
Must be Durable
One prerequisite of factory flooring is that it must be durable. There's no other material that can handle heavy machinery or regular foot traffic like concrete. Concrete has the capacity to withstand significant pressure and it will remain durable for many years to come.
Must be Versatile
For many, concrete flooring is a flooring choice that is completely uninspiring. Nevertheless, at Impact Flooring, we offer a variety of options. If you want colour added to your concrete floor we can do that. Whatever your requirements may be, whether that's simply a traditional style of concrete flooring or one with some colouring to help brighten things up, our team at Impact Flooring is ready to cater to your requirements.
Must be Low Maintenance
Your factory is a busy place and the last thing you'd want is for your flooring to be unable to stand up to the daily build-up of dust and dirt due to constant traffic. But that's one of the key things about factory floors – it requires very little maintenance input. An occasional sweep and a wet mop will be plenty enough.
May Need Anti-Static Properties
There are various industrial environments that are susceptible to the generation of electrostatic discharge (ESD). While static electrical conduction isn't necessarily apparent, in some scenarios the ESD is sufficient that it generates a spark of electricity.
An ESD may be harmless, manifesting itself as nothing other than a slightly uncomfortable shock. Nevertheless, when gases, flammable materials or chemicals are present, an ESD can prove to be very dangerous – possibly even catastrophic. And if so the installation of anti-static flooring is nothing short of essential in establishing an environment that is safe for employees and for visitors.
Even flooring solutions that are thoroughly elaborate and well-considered will still not meet expectations devoid of professional expertise throughout the installation process.
In this case, epoxy anti-static floors can prove to be the best choice. But keep in mind that this flooring solution should not be overlaid. To do so will insulate the floor which necessitates zero contact with the earthing points. As such, an already laid epoxy flooring will need to be removed down to the substrate level. After this, copper strips must be installed for earthing and grounding purposes.
How is Concrete Flooring Beneficial in a Factory?
If your factory has a concrete flooring finish cleaning up becomes a breeze, your factory in general benefits from a pleasing appearance, and concrete, as stated, provides amazing durability.
At Impact Flooring, the concrete floors that we provide to our customers easily cater to common daily occurrences:
Oil spillages as well as other machine fluid spillages
Moisture and chemical spills
Heavy-wheeled and stationary equipment
A build-up of metal shavings and particulates
To learn more about our factory flooring options or if you would like to know more about the importance of factory flooring, get in touch with us at Impact Flooring. Our team is highly skilled and has numerous years of experience in this industry. All of our client flooring solutions are done on an 'in house' basis. We do the prep work, we do the installation, and we handle after-sales care. No subcontracting occurs: when you partner with us you will only get 'us'.