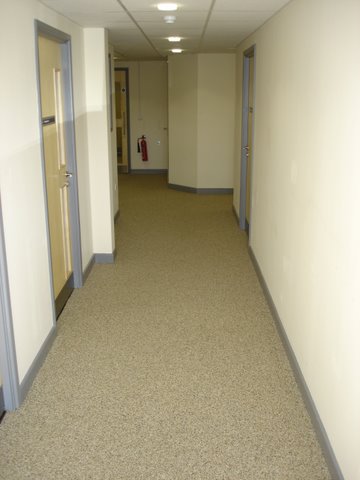 The UK's leading resin flooring specialist
Healthcare & Medical Flooring
Healthcare & Medical Flooring Systems
---
At its best, healthcare should be a healing environment that promotes well-being and recovery. To achieve this goal, every element of the facility must support a clean and safe environment, from the waiting room to the operating theatre. The flooring system is a critical component of this effort. Medical facilities have strict guidelines for flooring materials, finishes, and installation to ensure compliance with hygiene standards and minimise the risk of infection. In addition, the floor covering must be able to withstand heavy traffic and withstand constant cleaning. A well-designed flooring system will balance meeting these requirements and create an inviting space for patients, staff and visitors.
Resin flooring systems are an ideal solution for many healthcare and medical settings. They're slip-resistant, capable of withstanding rigorous cleaning, and have a long lifespan. Epoxy and polyurethane resin flooring systems in particular are a popular choice for these types of facilities as they meet the strict requirements for safety and hygiene, as well as being durable, easy to maintain and cost-effective. Not only does this type of flooring create a safe environment for patients and staff, but it also looks great – enhancing the overall aesthetic of the facility.
Benefits of our Healthcare & Medical Flooring Systems
---
If you're responsible for designing or maintaining a healthcare or medical facility, our team can help you choose the best-suited flooring system for your needs. We've successfully managed countless projects within the healthcare and medical industry over the years and are familiar with the unique requirements of these types of settings. Some of the main benefits of our healthcare and medical flooring systems are:
Non-Slip
Slip-resistant flooring is an important consideration for any healthcare or medical facility. Whether it be inpatient wards and corridors, or operating theatres and pharmacies, slip-resistant flooring is essential to reduce the risk of accidents and injuries from slips and falls. Resin flooring systems can be designed to meet the slip resistance requirements making them an ideal choice for many settings.
Easy to Clean & Maintain
Flooring in healthcare environments must withstand rigorous cleaning regimes to keep up with the highest hygiene standards. As well as antimicrobial properties, resin flooring systems are easy to clean and maintain, even with the most demanding cleaning schedule. Our medical flooring systems are installed as a smooth, seamless and non-porous surface, impervious to dirt and bacteria, making them simple to clean and disinfect. Resin floors are even tough enough to endure repeated steam and pressure washing.
Durable & Long-Lasting
In healthcare or medical premises, the floors take a lot of abuse. They have to withstand high levels of foot traffic and the weight of medical equipment and furniture. Resin floors are one of the most durable flooring options on the market and can last for many years with the correct care and maintenance. Additionally, our floors are intended to resist fading and staining, making them ideal for high-traffic areas. When it comes to healthcare flooring, you can't afford to cut corners. We'll ensure that your floors can stand up to anything thrown at them.
Anti-Static
In recent years, there has been a growing awareness of the importance of static control in healthcare and medical settings. Static electricity can be dangerous in these environments, as it can ignite flammable substances or affect the functioning of sensitive electronic equipment. We design our anti-static flooring systems to dissipate static charges, providing a safe environment for patients and staff.
Questions to Consider when Choosing Healthcare & Medical Flooring
---
Deciding on the right flooring system for your healthcare or medical facility can be daunting. However, our specialist team is on hand to help you every step of the way. Before deciding on a particular flooring system, there are a few key questions that you should consider:
What are the specific needs and requirements of my facility?
Different sectors within the healthcare and medical industry have varied flooring requirements. For example, slip resistance and durability are likely to be the most critical considerations in a hospital, whereas in a pharmaceutical company, an anti-static floor may be a priority. It's crucial to consider the specific needs of your sector when choosing a flooring system. Try to think about:
How much foot traffic will the flooring need to withstand?
What are the hygiene requirements?
Will heavy medical equipment need to be moved around on the floor?
Are there any slip resistance requirements?
Is static electricity an issue that you need to consider?
Does the flooring need to be customisable?
Once you have identified your facility's needs, you can start narrowing down your options.
What is my budget?
Some flooring systems can be more expensive than others, so it is important to find one that fits your budget. However, it's essential to remember that the initial cost is not the only factor to consider. You should also factor in the price of ongoing maintenance and replacement if necessary.
What is the timescale for the project?
If you're working to a strict deadline, you will need to find a flooring system that can be installed quickly without compromising quality.
Suitable Flooring Solutions
---
At Impact Floors, we understand the importance of providing safe, clean, hygienic environments for healthcare and medical facilities. That's why we offer a sizeable range of premium resin flooring solutions designed to meet these sectors' specific needs. Our floors are tough and hard-wearing, easy to clean and maintain, and we can customise them to suit each project's particular requirements. So whether you're looking for an anti-slip solution for a hospital, an anti-static floor for a pharmaceutical company, or a customised floor for a unique healthcare setting, we can help.
Industries
---
Our expert team has a wealth of knowledge and is on hand to help you choose the right flooring system for your healthcare or medical facility.
We have many years of experience working in the healthcare and medical sector, and we have an in-depth understanding of the specific flooring requirements for this industry. Some projects we've worked on include:
Clinic flooring
Pharmacy flooring
Surgery flooring
Operating room flooring
Dental office flooring
Dental clinic flooring
With an extensive range of products to suit all budgets and specifications, we're confident we can find the perfect flooring solution to meet your needs. In addition, our professional installers carry out all projects to the highest standards, ensuring a seamless finish that meets all the required safety standards.
Durable Commercial Flooring Solutions for your Healthcare & Medical Centre
---
Choosing the perfect flooring solution for your healthcare or medical centre is essential to creating a safe, hygienic and comfortable environment for both patients and staff. The healthcare sector can be particularly challenging when it comes to finding the right floor, as many factors need to be considered, with each division having unique requirements.
At Impact Floors, we've built up an unrivalled reputation for providing high-quality, durable and fit-for-purpose flooring solutions created to meet each client's specific needs. We take pride in offering expert advice and guidance at every stage of the process, from initial consultation to installation and aftercare.
REQUEST A CALLBACK
Contact Us
"*" indicates required fields
For bespoke industry flooring solutions talk to Impact Flooring today.
We offer free no obligation advice and can provide a price range on the first call.



Impact House, Short Street, Nuneaton, Warwickshire, CV10 8JF
Contact Us
If you want to discover more about our healthcare and medical flooring solutions, please get in touch with us today. Our team of experts will be happy to discuss your individual needs and requirements and can provide you with a free, no-obligation quote.