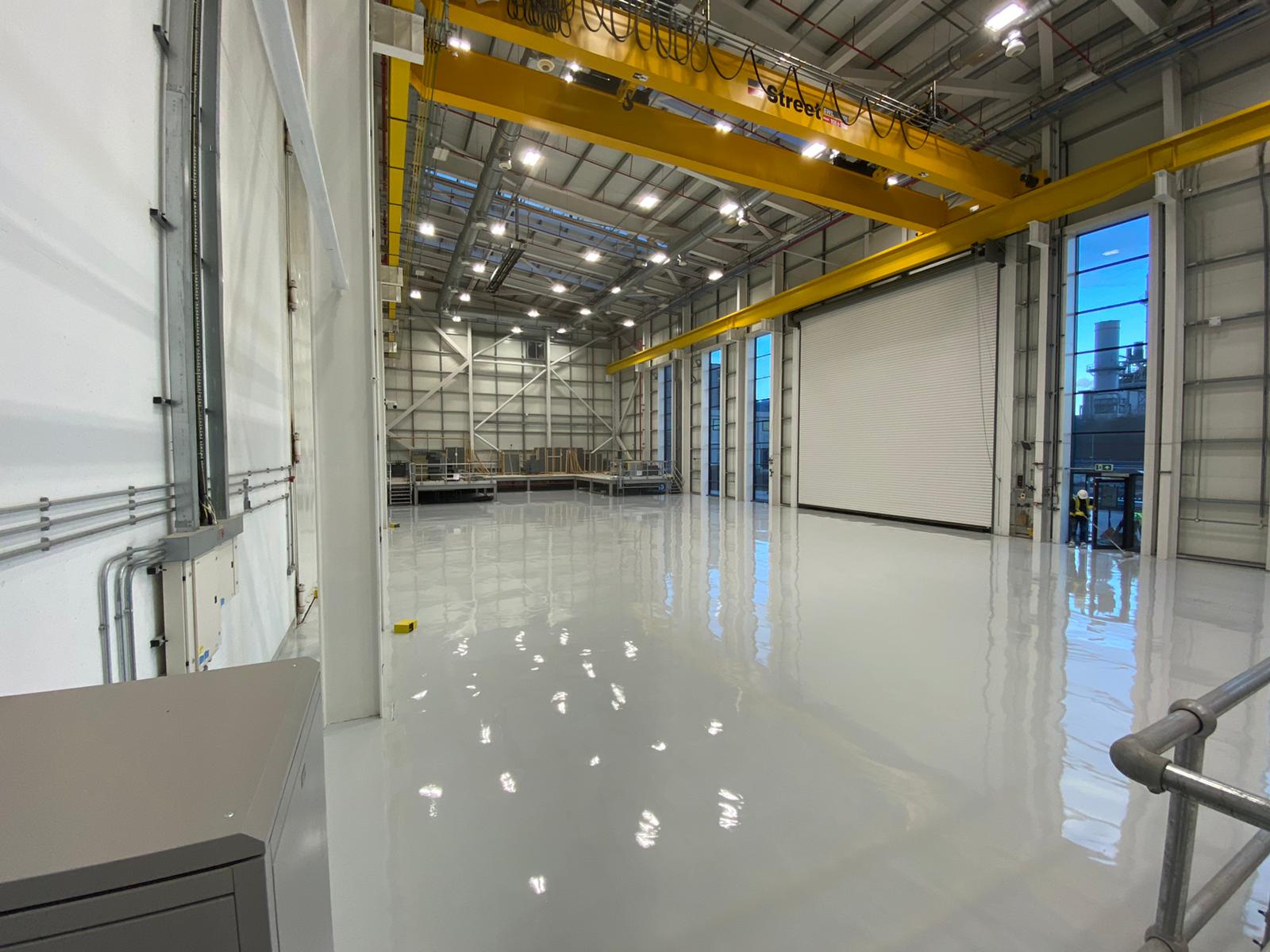 The UK's leading resin flooring specialist
Public Safety Buildings
Public Safety Buildings Flooring
---
When it comes to the safety of your employees and service users, there's simply no room for compromise. In public safety buildings such as fire and police stations, every element must be designed with safety in mind. 
Although often overlooked, the flooring used in commercial properties plays a crucial role in ensuring the safety of everyone inside. For example, anti-slip flooring can help to prevent falls, while fire-resistant flooring can help to contain flames and smoke in the event of a fire. In addition, acoustic flooring can help to reduce noise levels, making it easier for employees to communicate and stay alert. By specifying the right flooring for each area of a public safety building, you can help to create a safe environment for everyone involved.
At Impact Flooring, we're unrivalled in providing resin flooring systems designed to meet the specific needs of public safety buildings. Our epoxy floors are the optimal solution for areas that must withstand heavy foot traffic. They're incredibly durable and slip-resistant, making them ideal for environments where safety is a priority. In addition, our epoxy flooring is easy to clean and maintain, which is an important consideration in a busy public space. And because our flooring is fully customisable, we can create a unique look that complements your organisation's branding.
Benefits of our Public Safety Buildings Flooring Systems
---
Choosing the right type of flooring for your business can prove to be a daunting task. With so many different options on the market, it can be challenging to know where to start.
The main benefits of our public safety building flooring include:
Durability
---
Arguably the most crucial factor to consider when choosing flooring for a public safety building is its durability. The last thing you want is your flooring to show signs of wear and tear after only a few months of use. With our epoxy floors, you can rest assured that your flooring will be able to withstand even the most rigorous use.
Slip-resistance
---
Wet floors can present a severe safety hazard, particularly in public spaces with a high volume of foot traffic. Slippery floors are one of the leading causes of accidents and injuries in the workplace, and they can pose a serious threat to employees, visitors and service users. Epoxy floors have a high degree of traction and slip resistance, making them an ideal choice for public safety buildings.
Easy to clean and maintain
---
Our epoxy floors are the perfect solution for public safety buildings that need to maintain a high level of cleanliness. The seamless and nonporous surface of our floors helps to prevent the build-up of dirt, dust and grime and prevents the growth of bacteria. In addition, the epoxy floors are easy to clean and maintain, meaning you can keep your public safety building looking its best with minimal effort. And for those tough stains, our flooring can be power or steam-washed without causing any damage.
Fully customisable
---
First impressions count, so it is essential to ensure that your public safety building makes the right impression on everyone who walks through the door. You want visitors to feel safe, welcomed, and reassured that they are in good hands. At Impact Flooring, we specialise in resin flooring that can be fully customised to suit your organisation's needs. So whether you want to incorporate logos and graphics to compliment your branding or you need to create a colour-coded floor system for safety purposes, we can help.
Cost-effective
---
High-quality flooring can be a significant expense, but it's important to remember that flooring is a long-term investment. Cheap and inferior flooring materials will need to be replaced more frequently, which can end up costing you more over time. With our epoxy floors, you can rest assured that you are getting a cost-effective solution that will last many years with minimal maintenance required.
Questions to Consider Public Safety Buildings Flooring
---
When choosing flooring for a public safety building, there are several factors you need to take into account. Here are some important questions to consider:
What is the primary function of the building?
How much foot traffic does the building receive on a daily basis?
Are there any specific safety concerns that need to be addressed?
Does my flooring need to be customisable?
What is my budget for this project?
Once you've answered these questions, you'll be better positioned to decide which flooring system suits your building's needs.
Suitable Flooring Solutions
---
At Impact Flooring, we understand that every company and organisation is different and has its own unique set of requirements. From correctional facility flooring that needs to be slip-resistant and easy to clean to emergency service flooring that needs to be durable and hygienic, we offer a comprehensive range of flooring solutions that we can customise to meet the specific needs of each project.
We're proud to be one of the leading providers of resin flooring solutions in the UK and are committed to providing our clients with the highest quality and service. Our experienced and certified installers are passionate about helping our clients create safe and functional spaces that meet their unique requirements. And we're confident that we can find the perfect flooring solution for your public safety building, irrespective of the complexity or size of the project.
Industries
---
No matter your industry, we have a flooring solution suitable for your needs. Some of the projects we've worked on include:
Fire Station Flooring
Correctional Facility Flooring
Police Station Flooring
EMS Flooring
Our knowledgeable team is always on hand to provide specialist advice and guidance to help you choose the best flooring system for your needs.
Durable Commercial Flooring Solutions for your Public Safety Buildings
---
At Impact Flooring, we take pride in being one of the leading providers of high-quality, durable flooring solutions for public safety buildings in the UK. Our resin flooring systems are designed with our customer's needs in mind and are ideal for any environment where safety is a priority.
Our bespoke flooring solutions can be customised to perfectly suit the specific requirements of each project and are available in a vast range of colours and finishes. We have extensive experience working alongside various public safety organisations and are certain that we can deliver a functional and stylish flooring solution that is both practical and cost-effective.
If you're looking for a reliable and trusted provider of commercial flooring solutions, look no further than Impact Flooring. Our team of experts is here to help you with every step, from initial consultation to installation and beyond. We take the time to understand the specific needs of each project and work closely with our customers to ensure that their expectations are always exceeded.
Contact Us
Contact us today to learn more about our epoxy flooring systems or request a free consultation and quote. We look forward to hearing from you!
REQUEST A CALLBACK
Contact Us
"*" indicates required fields
For bespoke industry flooring solutions talk to Impact Flooring today.
We offer free no obligation advice and can provide a price range on the first call.



Impact House, Short Street, Nuneaton, Warwickshire, CV10 8JF