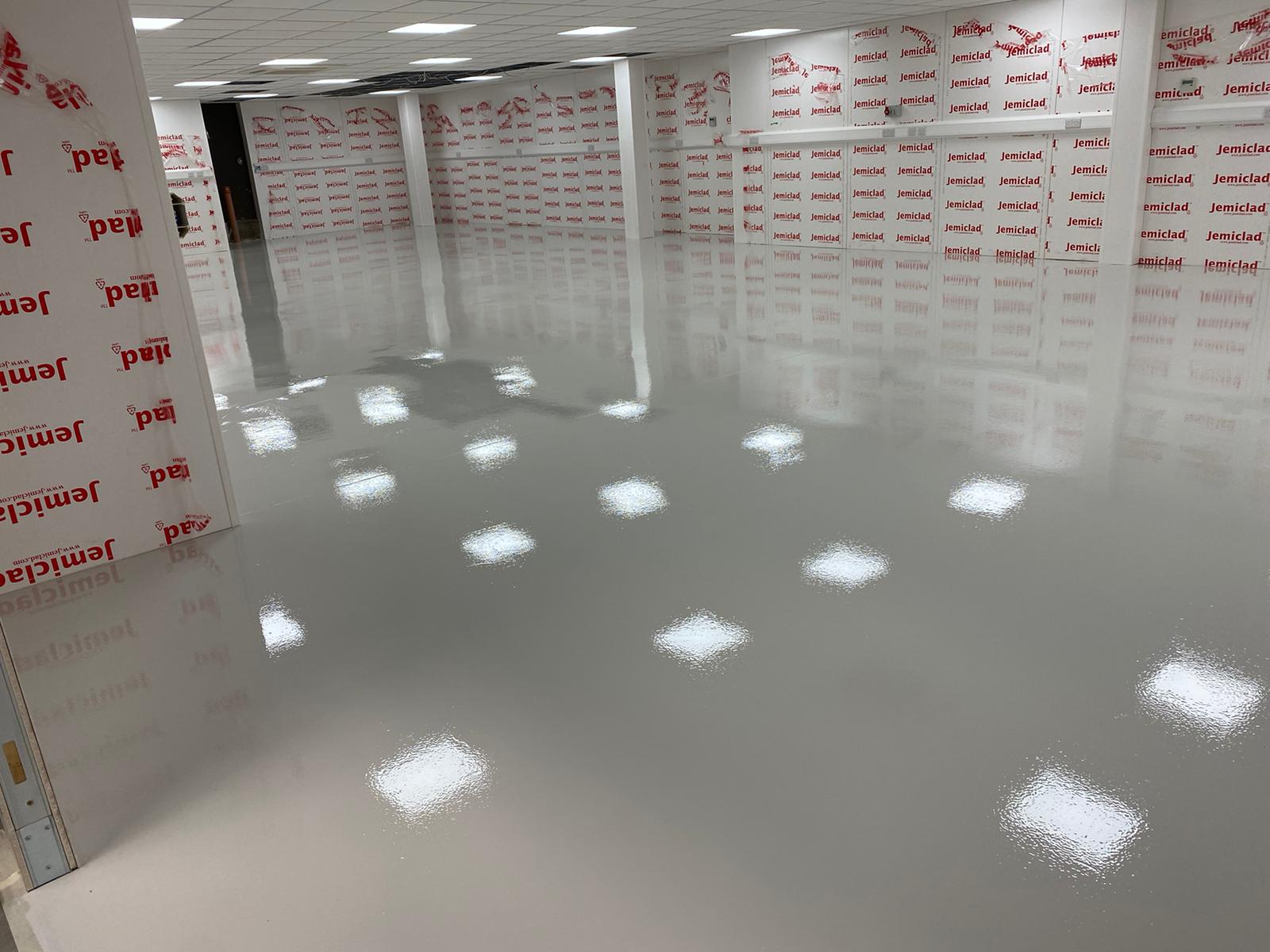 THE UK'S LEADING RESIN FLOORING SPECIALIST
Industrial Flooring Birmingham
Have you ever considered how the floor you walk on affects your business operations? When it comes to industrial flooring Birmingham, professionals recognise the importance. Regardless of your industry, a reliable foundation is essential for your business to run smoothly. It's not just a surface; it's a versatile platform that can handle daily wear and tear, enhance the look of your workspace, and offer cost savings. This is where resin flooring steps in as a game-changing solution.
Combining durability with aesthetic appeal, resin flooring is fast becoming the preferred choice for a variety of industrial environments in Birmingham. Engineered to withstand heavy equipment demands, constant footfall, and even chemical spills, resin flooring is guaranteed to provide strong and reliable support for your operations.
At Impact Flooring, we specialise in providing the highest quality resin flooring to businesses across the UK. Our seasoned experts will help you navigate the choices to find the resin flooring that aligns with your budget and project timeline. From initial planning to the final installation, we're committed to making your vision a reality every step of the way.
What Sets Resin Flooring Apart
---
Here are just a few of the benefits that come with investing in resin flooring:
Engineered for Endurance
When it comes to durability, resin flooring sets the gold standard. Traditional flooring options often show signs of wear and tear over time, but not resin. Specifically designed for industrial settings, it can withstand the weight and pressure of heavy machinery and the constant foot traffic, ensuring a long-lasting surface that's built to endure.
Minimal Maintenance, Maximum Benefit
One of the most appealing features of industrial resin flooring is its low maintenance requirements. Unlike other flooring types that demand constant care, a simple cleaning routine is all you need to keep a resin floor in top condition. This ease of maintenance translates to significant time and cost savings for your business.
Design That Speaks Your Language
Resin flooring isn't just about function; it's also about form. With a wide variety of colours, textures, and finishes available, you can customise your floor to reflect your business's unique personality and aesthetic. Whether you're aiming for a cutting-edge modern look or a timeless classic style, resin flooring can be tailored to meet your specific design needs.
Versatility Meets Cost-Effectiveness
Resin flooring offers unmatched versatility. It's not a one-size-fits-all solution; it can be tailored to fit any space and is compatible with a range of existing surfaces. This adaptability not only ensures a smooth installation process but also makes it a cost-effective choice for businesses looking to manage expenses without compromising on quality.
Safety as a Priority
In any industrial setting, safety is a top concern. Resin flooring rises to the challenge by offering features like anti-slip and anti-static coatings, making it a safer option for both employees and machinery. Additional safety coatings, such as fire-resistant, anti-microbial or chemical-resistant layers, can also be added to meet the stringent safety standards that your business demands.
Exploring the Types of Resin Flooring
---
We offer several resin flooring options, each with unique advantages and specifications. Here's an overview of each type:
Epoxy: When you think of a floor that can handle it all, epoxy comes to mind. Ideal for bustling environments, epoxy floors easily resist heavy machinery and accidental chemical spills. Beyond its robustness, its glossy finish adds an element of sophistication to your workspace. This dual benefit of durability and easy cleaning has made epoxy a cornerstone in numerous industrial settings.
Polyurethane: Polyurethane flooring is the jack-of-all-trades in the resin family. Its unique ability to adapt to varying conditions makes it particularly useful in environments with fluctuating temperatures, like food processing facilities. Don't mistake its flexibility for fragility, though. Polyurethane is incredibly resilient and capable of handling heavy loads and frequent foot traffic.
Acrylic (MMA): MMA floors set faster than most other types, reducing the time your operations need to pause for installation. Designed for toughness, MMA floors also excel in slip resistance, making your workspace safer. Their UV stability ensures they maintain their colour and vibrancy, even in areas flooded with natural light.
We'll work closely with you to understand your business needs and help you find the perfect resin flooring solution. No matter which solution you settle on, our experts will provide sound advice and exceptional service to ensure your satisfaction at every stage.
Birmingham's Number One Choice for Industrial Flooring
---
Over the years, we've built a reputation for excellence in the industrial flooring sector, and here's why:
A Commitment to Quality
Our reputation is built on three core values: delivering exceptional products, maintaining unwavering reliability, and nurturing a client-focused approach. We understand the significant investment that goes into choosing the right flooring, and our mission extends beyond merely meeting your expectations—we aim to exceed them at every opportunity.
Driven by Passion
What sets us apart is our genuine enthusiasm for the work we do. This passion fuels our commitment to stay abreast of the latest advancements in flooring technology and trends. It's this dedication that ensures you always receive the most cutting-edge solutions available.
A Legacy of Expertise
Our extensive history in the flooring industry has equipped us with invaluable insights and skills. This wealth of experience enables us to manage every aspect of your flooring project, from the initial consultation to the final touches, with unparalleled expertise.
Custom-Crafted Solutions
We recognise that each business has its unique needs and challenges, so we invest the time to fully understand your specific requirements. This process allows us to design a flooring solution that fits perfectly and ensures your operations continue running smoothly.
Empowering Our Team for Excellence
The backbone of our success lies in the capabilities of our team members. Through ongoing training programs, we ensure they remain at the forefront of industry knowledge and skills. This commitment to team development solidifies our position as a trusted leader in Birmingham's industrial flooring market.
In-House Excellence
One key factor that sets us apart is our commitment to in-house work. We don't outsource; we handle every aspect of the project ourselves, using our specialised equipment. This hands-on approach allows us to maintain the highest levels of quality and strive for unmatched excellence in every project.
Partnering with Industry Leaders
We've built strong relationships with the industry's top manufacturers, giving you access to the best products on the market. Our partnerships are carefully chosen to ensure we never compromise on quality, providing you with a flooring solution that stands the test of time.
Birmingham's Number One Choice for Industrial Flooring
---
Wondering how we can meet your unique flooring requirements? Don't hesitate to get in touch with the Impact Flooring team. We're here to help, offering guidance at each stage of your flooring journey. Contact us today and discover why we're Birmingham's first choice for industrial flooring solutions.
REQUEST A CALLBACK
Contact Us
"*" indicates required fields
For bespoke industry flooring solutions talk to Impact Flooring today.
We offer free no obligation advice and can provide a price range on the first call.



Impact House, Short Street, Nuneaton, Warwickshire, CV10 8JF