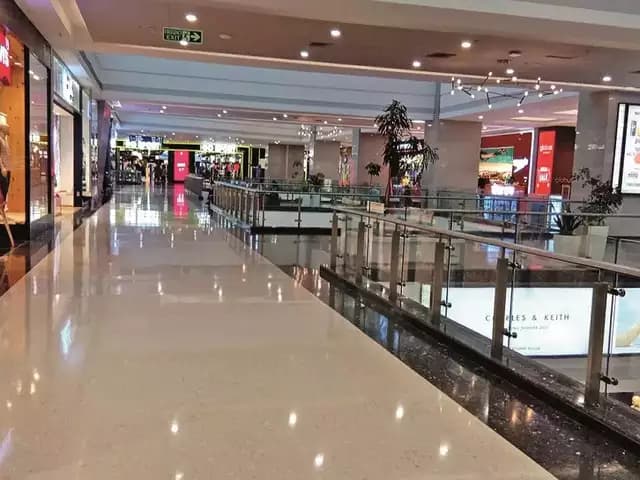 THE UK'S LEADING RESIN FLOORING SPECIALIST
Resin Flooring Company Newcastle
Resin Flooring Newcastle
---
Choosing the right flooring solution for your business can be a complex task. With so many options available, it's crucial to find a solution that not only meets your functional needs but also aligns with your aesthetic preferences and budget. That's where resin flooring comes into play.
Resin flooring is a fantastic choice for virtually all commercial settings, thanks to its durability, longevity, and adaptability. It's designed to withstand the rigours of a busy workspace, making it an ideal choice for businesses that value reliability and performance.
Whether you're operating in the manufacturing sector, running a bustling retail store, or managing a high-traffic warehouse, resin flooring offers superior protection and peace of mind.
At Impact Flooring, we specialise in providing premium-quality resin flooring in Newcastle. Our team of experienced professionals are highly knowledgeable and passionate about helping you create the perfect flooring solution for your business space. From the initial consultation to the final installation, you can rely on us to handle every aspect of your flooring project with professionalism and expertise.
Why Choose Resin Flooring?
---
Resin flooring offers a range of advantages that make it the perfect choice for any business. Here are just a few of the benefits:
Durability
One of the standout qualities of resin flooring is its exceptional durability. Unlike traditional flooring materials that can chip, crack, or erode over time, resin flooring is designed to withstand the rigours of heavy machinery, high foot traffic, and the daily wear and tear of industrial environments. This robustness means less worry about damage and more focus on your operations. It's a flooring solution built to last, ensuring your workspace can handle whatever your industry throws at it.
Ease of Maintenance
Resin flooring is not just tough; it's also low maintenance. Thanks to its seamless surface, cleaning is a breeze. It's resistant to spills and stains, so you won't have to worry about unsightly marks or extensive clean-up operations. Furthermore, its non-porous nature means it doesn't harbour dust or bacteria, making it an ideal choice for businesses prioritising hygiene, such as food production facilities or healthcare settings. With resin flooring, you can keep your workspace looking its best with minimal effort.
Aesthetic Appeal
Resin flooring isn't just about practicality; it's also about style. Available in a wide range of colours, textures and finishes, it can be tailored to match your brand aesthetics or specific design preferences. Whether you prefer a high-gloss finish that reflects light and creates a sense of spaciousness or a more subtle matte, look that exudes sophistication, resin flooring can deliver. You can even opt for decorative effects, such as flakes or quartz, to add a unique touch to your workspace.
Versatility
Resin flooring is incredibly versatile, making it suitable for a wide range of industries. Whether you're in manufacturing, warehousing, retail, hospitality, or any other sector, resin flooring can meet your specific needs. Plus, it can be installed over existing flooring, making it a convenient choice for businesses looking to upgrade their floors without significant disruptions. Its adaptability also extends to its performance characteristics – depending on the type of resin used, it can offer enhanced chemical resistance, thermal shock resistance, or electrostatic control, among other features.
Safety
Safety is paramount in any commercial setting, and resin flooring contributes significantly to this aspect. Its slip-resistant properties help to reduce the risk of accidents, keeping your employees safe. Certain types of resin flooring can also be resistant to heat and fire, providing an added layer of protection for your business. And because it's seamless and easy to clean, it also promotes a healthier environment by reducing the accumulation of dust and allergens.
Types of Resin Flooring We Offer
---
Resin flooring is a broad term encompassing a variety of solutions, each with its unique properties and benefits. At Impact Flooring, we provide a range of resin flooring options to cater to the diverse needs of businesses in Newcastle. Here's a closer look at what we offer:
Epoxy Resin Flooring: Epoxy resin is a popular choice for many industrial environments due to its robustness and durability. It's highly resistant to wear and tear, making it ideal for areas with heavy machinery or high foot traffic. Epoxy flooring also offers excellent chemical resistance, making it suitable for industries where spillages may occur. Its smooth, glossy finish not only looks appealing but also facilitates easy cleaning and maintenance.
Acrylic Resin Flooring (MMA): Acrylic or Methyl Methacrylate (MMA) resin flooring is a fast-curing solution that minimises downtime during installation. It's highly resilient and offers excellent slip resistance, making it a safe choice for busy workplaces. MMA flooring is also UV stable, meaning it won't turn yellow or fade when exposed to sunlight, making it an excellent option for spaces with large windows or skylights.
Polyurethane Resin Flooring: Polyurethane resin flooring is known for its exceptional flexibility and thermal shock resistance. These characteristics make it an excellent choice for environments that experience significant temperature fluctuations, such as food and beverage production facilities. Despite its flexibility, polyurethane flooring is incredibly durable and can withstand heavy loads and high traffic.
Each of these resin flooring types can be customised in terms of colour and finish to suit your aesthetic preferences and operational requirements. Our team of experts will work closely with you to determine the best resin flooring solution for your business, taking into account factors such as your industry, the nature of your operations, and your budget.
Resin Flooring Installation in Newcastle
---
As a leading provider of resin flooring in Newcastle, our company is built on a foundation of quality, expertise, and a deep understanding of our client's needs. We're more than just a flooring company; we're a team of professionals dedicated to delivering bespoke solutions tailored to your unique working environment.
Passion and Commitment
Our passion for what we do is evident in the quality of our work. We stay ahead of the curve, keeping up to date with new products, technologies, and application techniques, allowing us to offer completely customised applications for a wide range of commercial and industrial settings.
Expertise and Knowledge
With decades of collective experience in the industry, our knowledgeable professionals are well-equipped to handle all your resin flooring needs. From start to finish, we provide a comprehensive service that includes an initial assessment, design suggestions, product recommendations, and expert installation. Our team will always go the extra mile to ensure you get the best possible results.
Our Approach
We believe every customer is unique, and their business needs are paramount. We work alongside our clients to create a functional and visually appealing surface installed with minimal disruption. Our approach is rooted in providing first-class products, integrity, and a thorough understanding of your business operations and project objectives.
Our Team and Training
Our team is our greatest asset. We invest heavily in regular training, ensuring our staff are up-to-date with the latest industry developments. This commitment to continuous learning and improvement makes us a trusted provider of industrial resin flooring in Newcastle.
Unlike many of our competitors, we don't use subcontractors for in-house work. All our preparation is carried out on-site using our own extensive preparation equipment. This process allows us to closely monitor the quality of work and accept nothing less than perfection.
Partnerships
We've built strong relationships with our suppliers based on mutual trust and a shared commitment to quality. These partnerships enable us to deliver top-quality materials and guarantees to our clients, ensuring the longevity and durability of our resin flooring installations in Newcastle.
Contact Us
For bespoke industrial resin flooring in Newcastle, get in touch with Impact Flooring today. Our experienced team is ready to help you find the perfect resin flooring solution for your business. Contact us now to learn more about our resin flooring services in Newcastle!
REQUEST A CALLBACK
Contact Us
"*" indicates required fields
For bespoke industry flooring solutions talk to Impact Flooring today.
We offer free no obligation advice and can provide a price range on the first call.



Impact House, Short Street, Nuneaton, Warwickshire, CV10 8JF