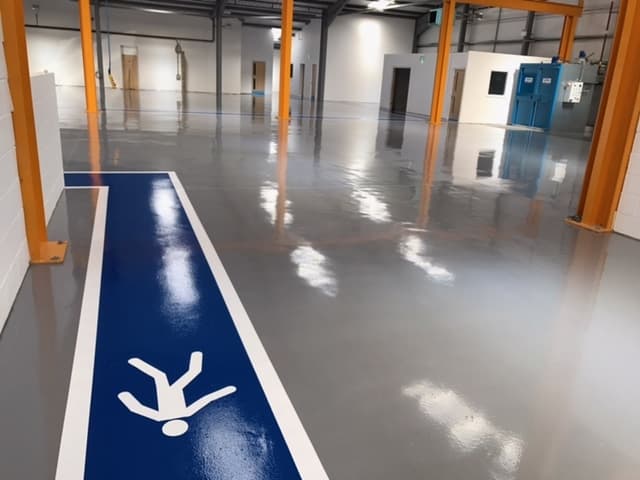 THE UK'S LEADING RESIN FLOORING SPECIALIST
Warehouse Flooring Birmingham
Resin Flooring Birmingham
---
There are numerous factors to consider before installing a new resin flooring in Birmingham. Firstly and most importantly, you should make sure that you are picking an experienced and professional team, who cause minimum downtime. This is what Impact Flooring specialise in, our location close to Birmingham means we have a lot of professional relationships in the area, we have however installed and maintained resin flooring all around the UK!
Minimum Downtime
---
We understand how busy life in Birmingham can be, which's no different in the commercial and industrial sectors. This is why we consistently manage to minimise client downtime and finish the job to the greatest standard, as quickly as possible.
Maximum Impact
---
All of our flooring services produce a big impact on visitors, personnel and when the time comes, inspectors. Our resin flooring can enhance health and safety with anti-slip properties whilst also creating an unbelievable looking floor, fit for anywhere from showrooms to warehouses.
Lasting Flooring Solutions in Birmingham
---
As Birmingham is one of the busiest cities in the UK, it makes sense that the industrial floors will need to be durable from the heavy flow of traffic or manufacturing. The resin floors in Birmingham that we have previously installed are all resistant to heavy foot traffic and heavy machinery. No matter the sector you operate in, we can provide a bespoke solution to completely fulfil your flooring needs.
Resin Flooring Birmingham Factory
---
Impact Flooring are specialists in supplying exceptional flooring surfaces to all of the industrial sectors. We're proud of our resin floors in Birmingham that we have installed over the years, and we are true industry experts and you'll be in safe hands. To learn more about resin flooring in Birmingham or any other services, please contact us. Our friendly team are constantly on hand to help in any way possible.
REQUEST A CALLBACK
Contact Us
"*" indicates required fields
For bespoke industry flooring solutions talk to Impact Flooring today.
We offer free no obligation advice and can provide a price range on the first call.



Impact House, Short Street, Nuneaton, Warwickshire, CV10 8JF