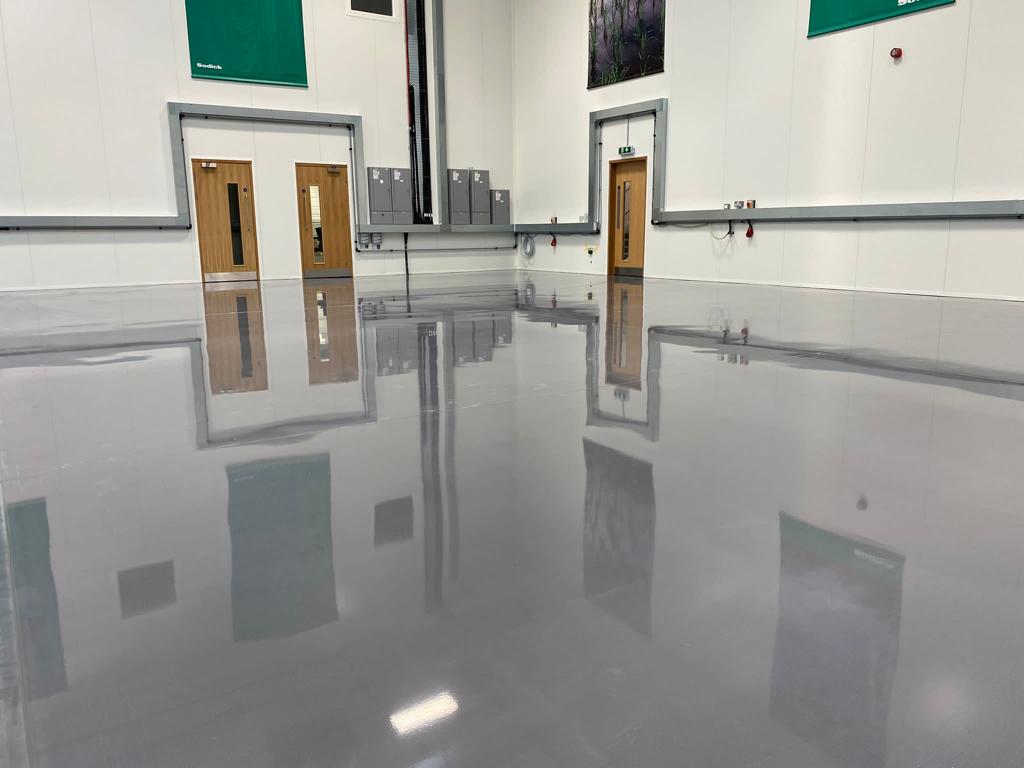 The UK's leading resin flooring specialist
Theatre & Auditorium Flooring
Theatre & Auditorium Flooring Systems
---
The floor of a theatre or auditorium is one of the most critical elements in its design. Not only does it need to be visually appealing, but it must also be durable enough to cope with constant use.
Epoxy resin is quickly becoming a popular choice for many commercial applications, including theatres and auditoriums. This flooring is exceptionally durable and easy to maintain, making it ideal for high-traffic areas. In addition, epoxy resin floors can be customised to match any décor, giving you the perfect finishing touch for your property. 
Benefits of our Theatre & Auditorium flooring systems
---
There are many options available when it comes to flooring for your theatre or auditorium, but why deal with anything less than the best? At Impact Flooring, we specialise in developing high-quality resin systems exclusively designed with you and your needs in mind. We understand that every project is different, so we offer a range of options to choose from in order to find the perfect fit for you.
Some of the benefits of our theatre and auditorium flooring systems include:
Minimal cleaning and maintenance
---
We know it's important for your theatre or auditorium to always look its best. Which is why we install epoxy flooring systems that can withstand constant and rigorous cleaning without affecting the floor's quality. They can even endure steam or pressure cleaning and maintain their pristine condition. With our epoxy floors, you'll never have to worry about your theatre flooring looking anything less than perfect.
High durability and resistance to wear and tear
---
Theatre and auditorium floors see a lot of foot traffic, so choosing a flooring system that can stand up to constant use is essential. Our epoxy floors are designed for high-traffic areas and are easily able to tolerate continuous wear and tear. They're also resistant to staining and fading, so you can be sure that your floor will always look good as new. With proper care and maintenance, our resin flooring can last well over ten years.
Customisable design options
---
The beauty of epoxy resin floors is that we can customise them to match any décor. Whether you're looking for a sleek and modern look or something more traditional, we can create a flooring design that's perfect for you. We have a wide range of colours and finishes available, so you're sure to find the ideal match for your setting.
Non-slip surface for safety
---
Safety is one of the most important considerations for any theatre or business. With our epoxy floors, you can be sure that your guests will always be safe, thanks to the non-slip surface. This feature is vital in areas where there is a lot of foot traffic, such as foyers and lobbies.
Seamless finish for a professional look
---
A theatre or auditorium is a place where first impressions count. That's why choosing a flooring system that gives off a professional and polished look is crucial. Epoxy resin floors produce a seamless finish that looks great in any setting. They also hide imperfections and flaws in the underlying concrete, giving you a perfect finish every time.
Quick and easy installation
---
We understand that time is of the essence when it comes to completing any flooring projects. Therefore, we provide quick and easy installation services for all our resin floors. We can install your new flooring system in no time so that you can get back to business as usual.
Questions to Consider when Choosing Theatre & Auditorium flooring
---
Choosing the right flooring for your business is not an easy task. Here are some questions that can help you decide on the best option:
What are the specific needs and requirements of my facility?
---
Each theatre or auditorium is different, so it's important to choose a flooring system that meets the specific needs of your business. Consider the amount of foot traffic your facility sees on a daily basis, as well as the type of events you host. These factors will help you narrow down your options and choose a flooring system perfect for your needs. Try to consider:
How much foot traffic will the floor be subject to?
What type of furniture and equipment will be used in the space?
Are there any slip-resistance requirements?
Does the flooring need to be customisable?
What's my budget?
---
With so many flooring options available, it can be hard to decide which one is right for you. Of course, your budget will play a significant role in this decision-making process but don't just think about the initial cost; also consider long-term expenses such as maintenance and repair bills down the line!
What's the timescale of the project?
---
If you're working to a tight deadline, choosing a flooring system that can be installed quickly and efficiently is important. Epoxy resin floors are an excellent option for time-sensitive projects as they can be installed in just a few days.
Are there any maintenance requirements?
Epoxy floors are low maintenance and easy to care for. However, it's still important to consider the maintenance requirements before making a decision. With our floors, you won't have to worry about spending hours cleaning and maintaining your floors and with proper care and attention, they will last for years to come.
Suitable Flooring Solutions
---
At Impact Flooring, we know that no two projects are the same. That's why we offer a wide range of high-quality resin floors, each designed specifically with the needs of our clients in mind and built tough enough to withstand even the busiest of environments. So, whether you're looking for a durable and slip-resistant floor for your theatre or auditorium lobby, or a polished and professional-looking finish for your stage, we have the perfect solution.
Industries
---
No matter your industry, we have a flooring system perfect for your requirements. At Impact Flooring, we've built a solid reputation as market leaders in producing high-quality resin floors.
Some of the projects we've completed include:
Theatre flooring
Auditorium flooring
Our team has helped countless businesses create stunning and functional flooring solutions. If you're looking for a reliable and experienced company to install your new theatre or auditorium floor, look no further than Impact Flooring.
Durable Commercial Flooring Solutions for your Theatre & Auditorium Centre
---
We believe every business deserves a flooring system designed specifically for their needs, which is why we go the extra mile to ensure that our clients are completely satisfied with their new floors. From initial consultations to final installation, we'll be with you every step to ensure that your new flooring is precisely what you've been looking for. So if you're searching for a company that can provide you with the perfect flooring solution, look no further than Impact Flooring. We're passionate about providing our clients with the best possible service, and we can't wait to show you what we can do.
If you're unsure which flooring system is right for your business, our team of experts is on hand to advise and guide you through the decision-making process. We'll work with you to understand your individual requirements and recommend the best flooring solution for your needs.
Contact Us
Contact us today to learn more about our theatre and auditorium flooring or discuss your requirements with one of our experts. We'll be more than happy to answer any questions you have and provide you with a free, no-obligation quote.
REQUEST A CALLBACK
Contact Us
"*" indicates required fields
For bespoke industry flooring solutions talk to Impact Flooring today.
We offer free no obligation advice and can provide a price range on the first call.



Impact House, Short Street, Nuneaton, Warwickshire, CV10 8JF