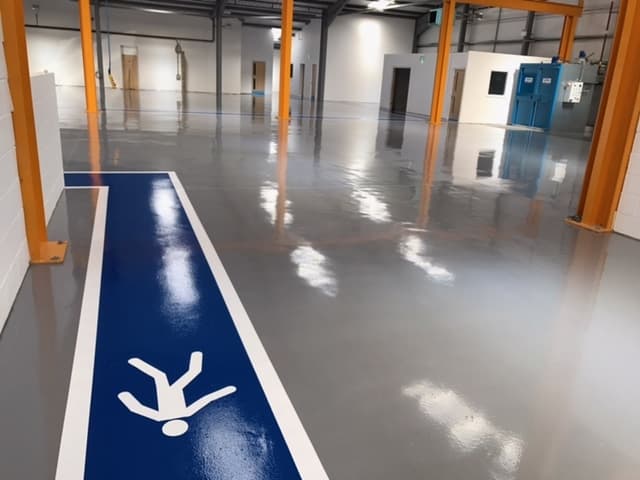 THE UK'S LEADING RESIN FLOORING SPECIALIST
Warehouse Flooring Birmingham
Industrial Flooring Derby
---
Navigating the world of commercial and industrial flooring can be challenging. With countless options to consider, it's vital to select a solution that not only caters to your operational demands but also enhances your workspace's visual appeal and fits within your budget. Enter resin flooring!
Resin flooring is an exceptional choice for a number of industrial environments thanks to its strength, lifespan, and adaptability. It's built to resist the pressures of a bustling workspace, making it a top pick for businesses that value efficiency and dependability. From heavy-duty manufacturing facilities to showroom-style offices, resin flooring can be crafted to fit any space.
At Impact Flooring, we're experts in delivering high-quality industrial flooring solutions in Derby. Our team of seasoned professionals are not only knowledgeable in the latest resin flooring technologies but also possess a deep understanding of a wide range of industries.
From the initial consultation to the final installation, we strive to ensure that your industrial space is outfitted with a flooring solution that meets the unique needs of your business.
Why Choose Resin Flooring?
---
Resin flooring offers a host of benefits that make it an ideal choice for any industrial environment. Here are just a few of the reasons why you should consider resin flooring:
Strength and Durability
Resin flooring is renowned for its exceptional strength and durability, making it the go-to choice for many businesses. Unlike traditional flooring materials that can deteriorate over time, industrial flooring is designed to withstand the demands of heavy machinery, high foot traffic, and the daily grind of industrial environments. This resilience ensures that your flooring will remain strong and long-lasting for years to come. 
Low Maintenance
Resin flooring isn't just robust; it's also easy to maintain. Most resin flooring solutions require minimal upkeep, meaning you won't have to worry about complicated cleaning processes or expensive maintenance costs. All you need is a regular sweeping and mopping routine to keep your floors looking pristine! 
Aesthetic Appeal
Available in various colours, textures, and patterns, resin flooring can be tailored to fit any industrial environment. Whether you're looking for a sophisticated and modern look or something more traditional, our team can craft a custom resin flooring solution that fits seamlessly with the existing design of your workspace. 
Versatility
No matter the industrial application you have in mind, resin flooring can be adapted to suit your requirements. Not only can it be tailored to fit any space, but it also works with a variety of existing surfaces, making the installation process much simpler and more cost-effective.
Safety
Safety is paramount in any industrial setting, and resin flooring contributes significantly to this aspect. Many resin flooring solutions feature anti-slip surfaces that help reduce the risk of slips, trips and falls while also providing enhanced grip for heavy machinery. Additional safety features, such as fire-retardant, chemical-resistant or static dissipative coatings, can also be integrated into the flooring system to ensure your workspace fully complies with safety regulations.
Types of Industrial Flooring We Offer
---
Resin flooring is a broad term covering a wide range of specialist industrial flooring solutions, each with unique properties. Here's an overview of the industrial flooring solutions we offer at Impact Flooring:
Epoxy Resin Flooring: Epoxy resin flooring is a standout choice for many industrial settings due to its toughness and long-lasting nature. It's built to withstand the rigours of heavy machinery and high-traffic areas, making it a perfect fit for spaces that see a lot of action. In addition, epoxy flooring is highly resistant to chemicals, which makes it a great fit for industries where spills might be a common occurrence. Its sleek, glossy finish not only adds a touch of elegance but also makes cleaning and maintenance a breeze.
Polyurethane Resin Flooring: Polyurethane resin flooring is celebrated for its remarkable flexibility and resistance to thermal shock. These traits make it a top choice for environments that see a lot of temperature changes, like food and beverage production facilities. Despite its flexibility, polyurethane flooring is incredibly tough and can handle heavy loads and high traffic without a hitch.
Acrylic Resin Flooring (MMA): Acrylic or Methyl Methacrylate (MMA) resin flooring is a quick-setting solution that cuts down on downtime during installation. It's highly durable and offers excellent resistance to slips, making it a safe option for busy workplaces. MMA flooring also holds up well under UV light, meaning it won't turn yellow or fade when exposed to sunlight, making it an excellent choice for spaces with lots of natural light.
Our expert team will work hand-in-hand with you to identify the best industrial flooring solution for your business. We'll consider factors like your industry, the nature of your operations, and your budget to ensure we deliver a solution that works for you.
Industrial Flooring Installation in Derby
---
As a leading figure in Derby's industrial flooring scene, our company is anchored by three core values: exceptional quality, unwavering reliability, and a deep commitment to customer satisfaction. We understand that investing in industrial flooring is a significant commitment for any business, and our mission is to surpass your expectations at every turn.
Driven by Passion
Our enthusiasm for our work is reflected in the superior quality of our projects. We're constantly exploring the latest products, technologies, and application techniques, which enables us to provide fully tailored solutions for a diverse range of commercial and industrial environments.
Experience and Expertise
Our team brings together decades of industry experience, equipping us to cater to all your industrial flooring needs. We offer an all-inclusive service that spans from the initial assessment and design suggestions to product recommendations and professional installation. We're dedicated to going the extra mile to bring your vision to life.
A Tailored Approach
We recognise that each customer is unique, with distinct business needs. We work closely with our clients to craft a functional and visually appealing flooring solution, causing minimal disruption to your operations. Our approach is underpinned by a commitment to delivering premium products, maintaining the highest level of integrity, and an unyielding focus on customer satisfaction.
Investment in Our Team
Our team is our most valuable resource. We prioritise continuous training, ensuring our staff are up-to-date with the latest industry trends and developments. This dedication to ongoing learning and improvement has cemented our reputation as a trusted provider of industrial flooring in Derby.
We set ourselves apart from many competitors by avoiding the use of subcontractors for in-house work. All our preparation is conducted on-site using our own comprehensive range of preparation equipment. This process allows us to maintain strict quality control and strive for nothing short of excellence.
Partnerships that Deliver
We've built a strong network of trusted partners, which allows us to offer our customers access to premium products from industry-leading manufacturers. These partnerships also keep us at the forefront of floor coating technology, helping us to consistently deliver outstanding results on every project. With the help of our carefully selected suppliers, we're uniquely positioned to source and supply materials tailored to your exact needs and budget.
Contact Us
---
For more information about our industrial flooring services in Derby or to discuss your requirements, contact the Impact Flooring team today. Our knowledgeable team will be glad to assist you and answer any questions you may have.
REQUEST A CALLBACK
Contact Us
"*" indicates required fields
For bespoke industry flooring solutions talk to Impact Flooring today.
We offer free no obligation advice and can provide a price range on the first call.



Impact House, Short Street, Nuneaton, Warwickshire, CV10 8JF