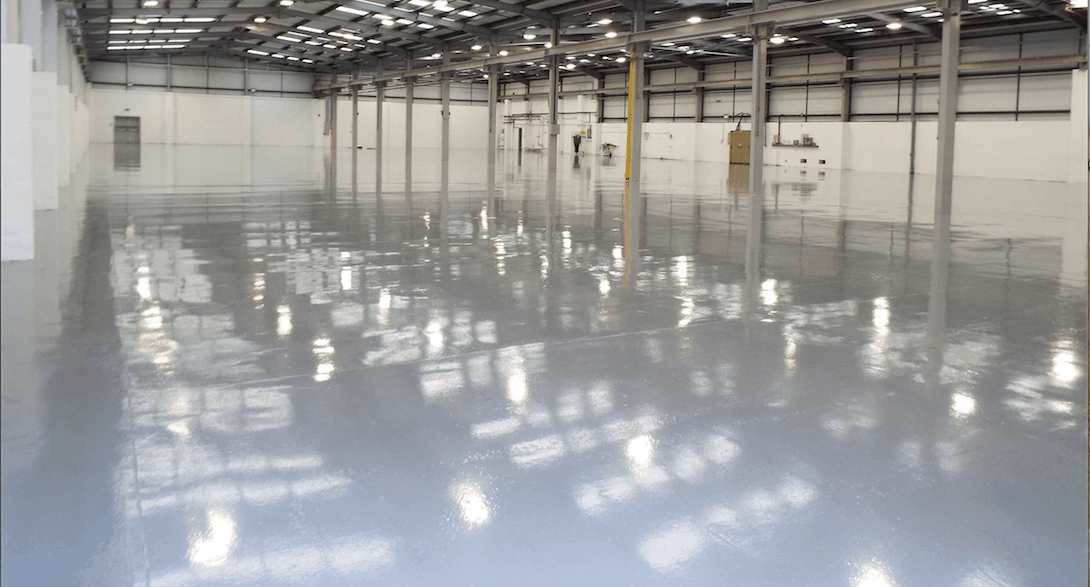 The UK's leading resin flooring specialist
Stadium & Arena Flooring
Stadium & Arena Flooring Systems
---
A well-designed commercial space does more than just impress customers; it also helps ensure that your business runs smoothly and efficiently. At Impact Flooring, we recognise the importance of choosing the right flooring for your business, and we're here to help you find the perfect solution for your needs.
When it comes to constructing a stadium or arena, there are many important decisions to be made. What type of seating will be used? What kind of roof will be installed? But one decision often overlooked is what sort of flooring to use. Epoxy resin flooring is becoming increasingly popular in stadiums and arenas for several reasons. They're durable, easy to maintain, and can also be customised to match branding or incorporate logos. In addition, epoxy resin floors are slip-resistant and have good acoustics, making them ideal for sports and concert venues. With so many benefits, it's no wonder that epoxy resin floors are becoming the preferred choice for stadiums and arenas worldwide.
Benefits of our Stadium & Arena Flooring systems
---
Deciding on the right flooring for your stadium or arena is a big decision. There are many factors to consider, from durability and ease of maintenance to aesthetics and customisation.
Here are some of the key benefits of our epoxy resin flooring systems:
Durability
---
The durability and longevity of flooring is probably the most crucial consideration for any business. After all, you want your flooring to withstand heavy foot traffic and equipment without showing signs of wear and tear.
Our epoxy resin floors are some of the most durable on the market, meaning they can resist the hardship of daily use for many years to come.
Easy to clean and maintain
---
Stadiums and arenas are notoriously difficult places to keep clean. With hundreds or even thousands of people passing through every day, a lot of dirt and grime can build up. However, our epoxy floors can help to keep these areas clean. They're non-porous and seamless, so there are no nooks and crannies for dirt and grime to build up. Plus, they're easy to wipe down and keep clean with minimal effort.
Customisable
---
We can customise our resin floors to match your brand identity or the look and feel of your venue. We offer a wide range of colours, designs and finishes, so you're sure to find something that meets your needs.
Safe
---
Safety is always a top priority in any public space, and stadiums and arenas are no exception. That's why we're proud to offer epoxy resin floors that are slip-resistant and have a high level of traction, making them safe for everyone who uses them. Our floors have been installed in a variety of stadiums and arenas around the country, and we're confident that they can stand up to the heavy foot traffic and high levels of activity that are characteristic of these spaces.
Cost-effective
---
Investing in high-quality flooring can be a considerable expense, so it's essential to ensure you're getting value for money. Epoxy resin floors are some of the most cost-effective on the market, so you can be sure that you're making a wise investment when you choose them for your stadium or arena.
Questions to Consider when Choosing Stadium & Arena Flooring
---
No two properties are the same, so choosing flooring that suits your specific needs is important. Here are some questions to ask yourself when making your decision:
What is the primary purpose of the space?
How many people will be using the area on a daily basis?
What's your budget?
Does the flooring need to be customisable?
Are there any anti-slip requirements?
What kind of equipment will be used in the space?
Answering these questions will help you to narrow down your options and choose the best type of flooring for your venue.
Suitable Flooring Solutions
---
At Impact Flooring, we know that every business has different needs. That's why we offer a range of premium quality floors, each designed to meet the specific requirements of our clients. So whether you're looking for a slip-resistant and durable floor for a stadium changing room or an easy-to-clean and maintain floor for an arena gift shop, we have a solution to suit. All our products are designed to withstand the rigours of daily use, so you can be sure they will stand up to the demands of your business and stay looking great for many years to come.
Industries
---
Over the years, we've worked with many businesses, from small independent retailers to large multinational corporations. Whatever your business, we can provide a floor that will suit your needs. Some of the projects we've worked on include:
Stadium Flooring
Arena Flooring
Retail Flooring
Leisure Flooring
Commercial Flooring
Our team of experienced professionals are always on hand to provide expert advice and guidance, ensuring that you find the perfect floor for your needs.
Durable Commercial Flooring Solutions for your Stadium & Arenas
---
Impact Flooring is the only name you need to know when it comes to high-quality, durable flooring solutions for your arena or stadium. We offer an exclusive range of products designed with our customer's needs in mind and tailored specifically to their unique project specifications. In addition, our team of experts has extensive experience in helping businesses create functional and stylish spaces that are both practical and inviting. We take the time to understand your goals and objectives and work with you to create a space that ticks all the boxes. With a wide variety of options, we're sure to have the perfect fit for you.
Contact Us
If you're interested in discovering more about our products and services, we'd be happy to hear from you! Get in touch today, and one of our team will be glad to answer any questions you have. Alternatively, if you're ready to take the next step, we can arrange a free, no-obligation consultation and quote at your convenience. Contact us today to get started!
REQUEST A CALLBACK
Contact Us
"*" indicates required fields
For bespoke industry flooring solutions talk to Impact Flooring today.
We offer free no obligation advice and can provide a price range on the first call.



Impact House, Short Street, Nuneaton, Warwickshire, CV10 8JF