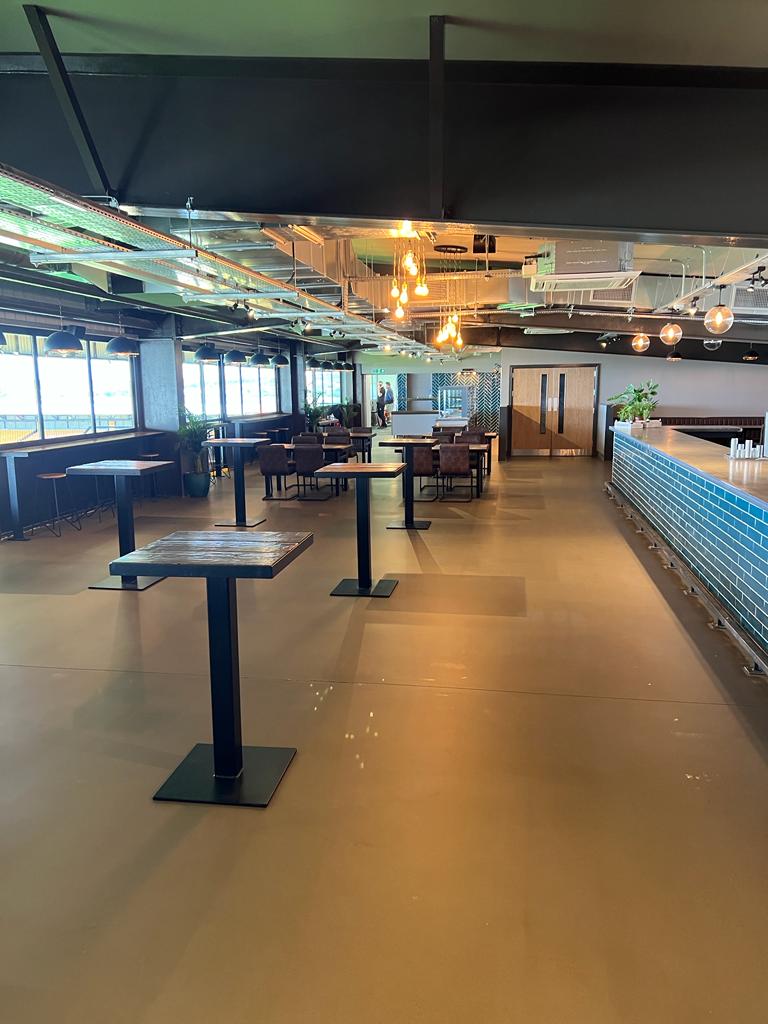 The UK's leading resin flooring specialist
Hospitality & Restaurant Flooring
Hospitality & Restaurant Flooring Systems
---
There are many factors to consider when choosing the right flooring system for your hospitality or restaurant business. Durability, performance and aesthetics are all important, but you also need to consider your establishment's specific needs. For example, a busy bar or nightclub might need a floor that can withstand heavy foot traffic and spills, while a leisure facility might need a slip-resistant floor that is easy to clean.
The good news is that there are now several options available that can provide the perfect solution for your business. Resin flooring systems, in particular, are becoming increasingly popular in the hospitality and restaurant sectors, and with good reason. They offer a high-performance, durable and seamless finish that is ideal for high-traffic areas. And, with an extensive range of colours and styles available, resin floors can be tailored to create an individual look that reflects the brand identity of your business.
Benefits of our Hospitality & Restaurant Flooring Systems
---
The right commercial flooring can make all the difference to a business. It must be tough enough to withstand constant foot traffic but stylish and attractive enough to create a positive first impression. That's why Impact Floors is the perfect choice for the hospitality industry. We have a range of flooring systems tailored to meet these businesses' exact needs, ensuring they can create a beautiful and inviting space for their customers. With our help, companies in the hospitality and restaurant sector can create an inviting and professional atmosphere, giving their customers the best possible experience. Here are just some of the advantages of our products:
High Performance and Durability
Hospitality and restaurant flooring takes a lot of abuse. From spills and dropped plates to high heels and heavy foot traffic, these floors need to be tough enough to withstand everything that is thrown at them. Our resin floors are produced with high performance and durability in mind, ensuring they stand up to the rigours of everyday use.
Attractive and Stylish
First impressions count, and our flooring systems will create a positive impression on your customers. We have a range of styles and colours to choose from, so you can find the perfect look for your business.
Easy Maintenance
The seamless nature of our floors makes them very easy to keep clean, even in the busiest of restaurants. There are no cracks or crevices for dirt and grime to build up, and spills can be easily wiped away without leaving a mark.
Safety and Slip Resistance
Safety is always a top priority for any business. Our floors have antimicrobial properties and can be made to be slip-resistant, helping create a safe environment for your customers and staff.
Chemical, Stain and Heat Resistance
Resin floors are resistant to various common chemicals and stains and can withstand high temperatures, making them the perfect choice for hospitality businesses such as commercial kitchens and restaurants.
Comfortable Underfoot
Our floors are created to be comfortable underfoot, even when standing for long periods of time. This feature is important for staff on their feet all day and customers who may be dining or shopping for extended periods.
Questions to Consider when Choosing Hospitality & Restaurant Flooring
---
Deciding on the right flooring for a hospitality or restaurant business can be challenging. There are many things to consider, and choosing a system that will meet the company's needs is essential. Here are some questions to help you narrow down your options:
What is the space used for?
The most obvious aspect to consider is the purpose of the space. Is it a restaurant, bar, hotel, gym or another type of hospitality business? Each company will have different requirements when it comes to flooring, so it's crucial to choose a system that has been customised for the surrounding environment. For example, a gym will need a floor that is slip-resistant and easy to clean, while a restaurant will need a durable and attractive floor. Try to consider:
How much foot traffic will the floor be subject to?
What type of furniture and equipment will be used in the space?
Are there any slip-resistance requirements?
Does the flooring need to be customisable?
Once you've considered the purpose of the space, you can start to narrow down your options. Impact Floors offers a range of flooring systems designed for specific environments. We also provide customisation options so that you can create a unique floor for your business.
What is the budget?
Commercial flooring can be a significant investment, so it's important to consider the cost when making a decision. Try to strike a good balance between quality and price, and remember that the flooring will be subject to wear and tear over time. It's also worth considering the long-term costs of cleaning, maintenance and replacement.
What is the timescale?
Some flooring systems can be installed quickly and with minimal disruption, while others may take longer. Therefore, planning and choosing a system that can be installed within the required timeframe is vital.
What are the environmental conditions?
Some floors are unsuitable for wet conditions, while others may be sensitive to light or heat. Choosing a system that can withstand the precise environmental conditions of the space is a wise move that could save you money and hassle down the line.
Suitable Flooring Solutions
---
At Impact Floors, we understand the importance of providing safe, clean, hygienic environments for hospitality facilities. That's why we offer a range of premium resin flooring solutions designed to meet these sectors' specific needs. Our floors are hard-wearing, resilient, and easy to clean and maintain. So whether you're looking for an anti-slip floor for a busy kitchen or a stylish, low-maintenance solution for a hotel lobby, we've got you covered. With our help, you can create a safe, functional and elegant space that your customers will love.
Industries
---
While we offer a wide range of flooring solutions for all types of businesses, we have built an unrivalled reputation in the hospitality and restaurant industry. These businesses often have special requirements when it comes to flooring, and we are proud to offer products that meet these needs. Some of the projects we've worked on include:
Nightclub flooring
Bar flooring
Casino flooring
Freezer flooring
Walk-in cooler flooring
Hotel flooring
With an extensive range of hospitality flooring solutions available, Impact Floors is the perfect partner for your business. We understand the demanding needs of these businesses, and we are proud to offer products that meet and surpass expectations.
Durable Commercial Flooring Solutions for your Hospitality & Restaurant Establishments
---
Choosing the right flooring system for a hospitality or restaurant business can be daunting. There are many factors to consider, including longevity, aesthetics, upkeep and budget. That's why we are proud to offer products that meet these needs, with a focus on durability, style and easy maintenance. Our floors are designed to withstand high foot traffic, spillages and other common challenges in these environments. And, with our customisation options, we can create a one-of-a-kind floor for your business that's sure to impress.
REQUEST A CALLBACK
Contact Us
"*" indicates required fields
For bespoke industry flooring solutions talk to Impact Flooring today.
We offer free no obligation advice and can provide a price range on the first call.



Impact House, Short Street, Nuneaton, Warwickshire, CV10 8JF
Contact Us
If you want to discover more about our hospitality and restaurant flooring solutions, please don't hesitate to contact us. Our expert team will be happy to discuss your needs and provide you with a tailored solution.