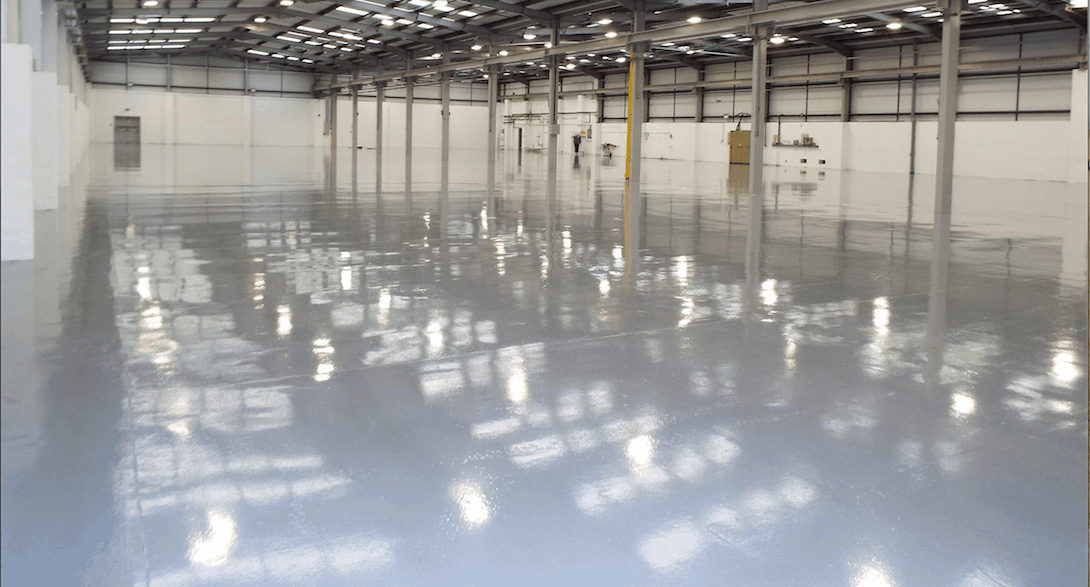 The UK's leading resin flooring specialist
Multi-Purpose Flooring
Multi-Purpose Flooring for Any Facility
---
When choosing a flooring solution for a commercial building, there are many factors to think about. Of course, depending on the purpose of the area, some elements will be more important than others. For example, a busy hotel lobby might be more concerned with durability and aesthetics, while a warehouse might prioritise safety and functionality. However, there is one flooring type that can offer the perfect balance of all these factors and more: epoxy flooring.
This multi-purpose flooring is a popular choice for many companies and organisations and with good reason. Epoxy resin is exceptionally durable, easy to clean, and slip-resistant, making it ideal for high-traffic areas. It's also available in various colours and finishes, so it can be customised to fit the aesthetic of any building. With so many benefits, it's no wonder that epoxy flooring is becoming the go-to choice for business owners across the country.
Benefits of our Multi-Purpose Flooring for any Facility
---
Deciding on the correct type of flooring for your commercial property can be challenging. There are many factors to consider, such as cost, longevity, ease of maintenance, and aesthetics. Our multi-purpose flooring ticks all the boxes and is ideal for any busy commercial area. Here are just some of the benefits of our epoxy resin flooring system:
Seamless & Hygienic
---
Epoxy resin is poured onto the base substrate and left to cure, creating a seamless surface that is easy to clean and maintain. There are no joints or grout lines where dirt and bacteria can accumulate, making it the perfect choice for busy areas that require a high level of hygiene, such as food preparation areas, healthcare facilities, and restrooms. Epoxy is also nonporous and antimicrobial, making it resistant to mould, mildew and bacteria growth.
Slip-Resistant & Safe
---
We can formulate the epoxy mixture to be slip-resistant, making it a safe choice for wet areas such as showers, changing rooms, and kitchens. A slip-resistant finish is achieved by adding a coarse aggregate to the epoxy resin before we apply it to the floor. This mixture provides a textured surface that helps to increase traction and prevent slips and falls.
Durable & Hard-Wearing
---
Known for being extremely durable and hard-wearing, epoxy resin is ideal for high-traffic areas such as corridors, lobbies, and entranceways. It's resistant to scuffs, scratches, and staining and can withstand heavy foot traffic and rolling traffic, such as from wheelchairs and trolleys.
Easy to Maintain
---
Epoxy flooring is easy to clean and maintain, even in busy spaces. It can be quickly wiped down with a damp mop or cloth, and any spills can be easily cleaned up without leaving any residue. For tough marks and stains, power and steam cleaners can be used without worrying about damaging the floor.
Aesthetically Pleasing
---
Available in a wide range of colours, finishes and textures, we can customise epoxy resin flooring to suit any property. A high-gloss finish will create a sleek and modern look, while a textured finish can help to hide any imperfections in the underlying substrate. We can also incorporate logos, graphics, and other design elements into the flooring to create a unique and eye-catching finish.
Cost-Effective
---
The initial outlay for any flooring project can be a significant investment. However, epoxy flooring is a cost-effective solution in the long run as it is durable and requires little in the way of maintenance. In addition, it generally has a lifespan of 10-15 years, depending on the level of traffic, making it a cost-effective choice for any business.
Quick to Install
---
Our team of experienced installers can have your epoxy flooring installed in no time. The installation process is quick and efficient, with minimal disruption to your daily operations.
Questions to Consider when Choosing Multi-Purpose Flooring for Any Facility
---
When choosing a flooring solution for your commercial premises, there are a few key questions you should consider:
What is the primary purpose of the area?
How much foot traffic will the floor be subject to?
Are there any health and safety implications to consider?
What's the estimated cost of installation and ongoing maintenance?
Does the flooring need to be slip-resistant?
What is the desired aesthetic look and feel?
Once you have a clear understanding of your needs, you can narrow down your options and choose the best flooring solution for your property.
Suitable Flooring Solutions
---
At Impact Flooring, we understand that every building is different and that one size doesn't fit all. That's why we offer a bespoke flooring service, working closely with our clients to ensure that the finished product meets their specific requirements.
Whether you're looking for a high-gloss, low-maintenance finish for your reception or a high-traction surface for your changing rooms, we can create a tailored solution to suit your needs. And because we only use the highest quality materials, you can be sure that your new floor will withstand the rigours of daily use for many years.
Industries
---
Over the years, we've built strong working relationships within a number of different industries, and we have a wealth of experience in providing flooring solutions for all types of commercial spaces. Some of the projects we've worked on include:
Commercial Laundry Room Flooring 
Reception Area Flooring
Waiting Room Flooring
Atrium Flooring
Lobby Flooring
Changing Room Flooring
Dressing Room Flooring
Warehouse Flooring
Commercial Restroom Flooring
Public Restroom Flooring
We have a proven track record in delivering premium quality flooring solutions, on time and within budget. So if you're looking for a reliable and professional team to install your new floor, look no further than Impact Flooring.
Durable Commercial Flooring Solutions for your Multi-Purpose Areas
---
At Impact Flooring, we're passionate about creating functional and stylish commercial flooring solutions that are built to last. We understand that no two companies are the same, so we offer a range of multi-purpose flooring services that we can tailor to your unique project requirements. Our knowledgeable team will work closely with you from start to finish to fully understand your needs and deliver a flooring solution that perfectly meets them.
Whether you need a practical and inviting floor for your reception area or a hard-wearing and impact-resistant surface for your warehouse, we can deliver a flooring solution that exceeds your expectations. With our years of experience and dedication to customer satisfaction, you can rest assured that you'll get the best possible service when choosing Impact Flooring.
Contact Us
For more information about our epoxy flooring services or to discuss your requirements with one of our team, please don't hesitate to get in touch. We're always happy to help and look forward to working with you on your next project.
REQUEST A CALLBACK
Contact Us
"*" indicates required fields
For bespoke industry flooring solutions talk to Impact Flooring today.
We offer free no obligation advice and can provide a price range on the first call.



Impact House, Short Street, Nuneaton, Warwickshire, CV10 8JF