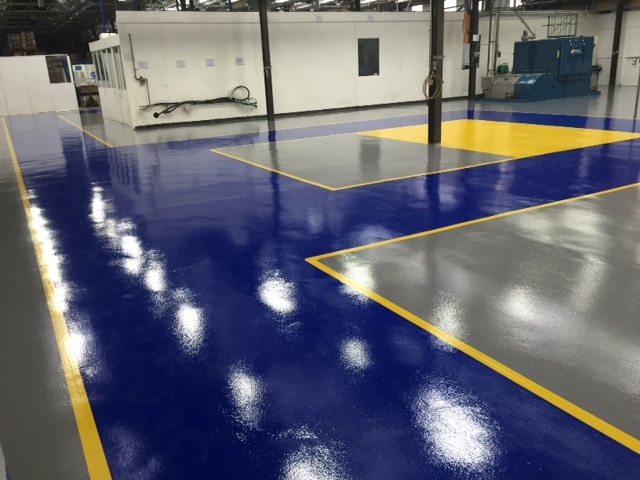 The UK's leading resin flooring specialist
Can Industrial Flooring Repairs Be Avoided?
When it comes to industrial flooring, it's important to keep up with all repairs and replacements. Any area of flooring that is damaged, regardless of size and severity, can cause bigger problems. Not only can the damage worsen with continued use, but it may also put the health and safety of staff at risk. However, a lot of people do try to avoid industrial flooring repairs. This isn't something that we'd advise. Instead, we encourage everyone to seek the help of industrial flooring specialists when flooring repairs are needed.
Reduce the Chances of Industrial Flooring Repairs Being Needed
Though it's impossible to avoid all repair work, there are ways to cut down on the chances of damage occurring in the first place. For example, all industrial flooring solutions should be used as they were intended. This means only using the flooring with the machinery and vehicle traffic that it's able to withstand. Similarly, all industrial flooring solutions should be taken care of as much as possible. This includes using correct cleaning materials, fixing all small cracks and having a professional coating applied. By taking the time to properly look after your flooring, you will reduce the chances of costly repairs being needed.
Another way to reduce the chances of industrial flooring repairs being needed is to have a high quality flooring installed in the first place. A high quality floor that is professional installed is likely to last a lot longer than low quality alternatives. At Impact Flooring, we only provide our customers with the very best solutions. With our team of experts and experience, we can install a flooring that is able to withstand the general wear and tear that comes with an industrial environment.
Industrial Flooring Solutions at Impact Flooring
At Impact Flooring, we're firm believers in providing businesses with high quality industrial flooring solutions. Rather than paying out for costly repairs that need to be done time and time again, we focus on installing flooring solutions that will stand the test of time. Not only does this help you to save money on your industrial flooring in the long run, but it ensures that your workplace will have an industrial flooring that really does what you need it to do. There will be no unexpected surprises. To find out more about industrial flooring repairs or industrial flooring solutions, get in touch. Contact Impact Flooring today on 0247 648 1795 or via the online contact form.