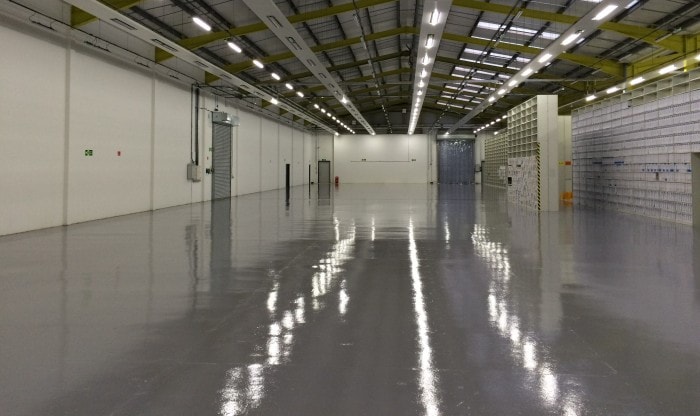 The UK's leading resin flooring specialist
Here's Why Epoxy Flooring Is So Popular
At Impact Flooring, we have noticed that more and more people are interested in epoxy flooring. When you consider all of the benefits that come with epoxy flooring, it's easy to see why. Some of the main benefits of epoxy flooring are listed below.
The Benefits of Epoxy Flooring
Epoxy Flooring Lasts a Long Time – Though not all industrial flooring solutions are able to stand the test of time, epoxy flooring can. When compared to other industrial flooring solutions, epoxy flooring doesn't need replacing quite as quickly. This means that it's a fantastic investment, one that you will be making use of for years to come. Even when there's a great deal of use from heavy machinery, epoxy flooring stands strong.
Epoxy Flooring is Resistant to Chemicals – As someone who works in an industrial environment, you are sure to know that chemicals can do a lot of damage. Luckily, epoxy flooring can resist this damage. If you work in an industry where harmful chemicals are often used, epoxy flooring may be one of your best options. When a spillage occurs, there won't be any lasting damage.
Epoxy Flooring Looks Great – Even though it's an industrial environment, it's important for a business to look professional. Epoxy flooring is an industrial flooring solution that has a great finish, meaning that it's sure to impress others. When you choose epoxy flooring, you are choosing one of the most professional looking solutions.
Epoxy Flooring is Easy to Care For – It isn't always easy to keep an industrial environment neat and tidy, but an epoxy flooring can make things a little bit easier. Epoxy flooring is easy to clean, regardless of what the industrial environment is used for. As well as being easy to clean, epoxy flooring is also easy to maintain. If an epoxy floor is damaged, repairs are easy and relatively simple.
Epoxy Flooring at Impact Flooring
At Impact Flooring, we have a great deal of experience with epoxy flooring. This means that we're able to install your brand new flooring to a high standard, with complete professionalism. It doesn't matter on the industry that you work in, we are confident in our ability to provide the very best epoxy flooring available. To find out more about epoxy flooring or any of our other industrial flooring solutions, get in touch. Contact Impact Flooring on 0247 648 7184 or via the online contact form.