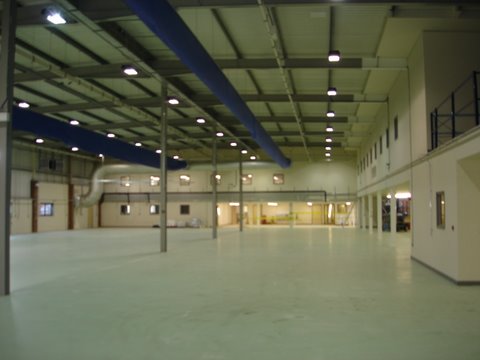 The UK's leading resin flooring specialist
Industrial Flooring Solutions for UK Businesses
If there's one thing we know a great deal about, it's industrial flooring solutions for UK businesses. We have spent many years perfecting our solutions and ensuring our services go above and beyond. This is all so that we are able to offer an unmatched service regardless of business size or type. Whether you operate a warehouse or storage facility, a pharmaceutical company or a food processing factory, you can count on us to help with your industrial flooring needs.
Professional Flooring Solutions for Businesses
As an business, it's important for you to have a professional flooring solution that ticks every box. After all, there's no point investing in a floor that doesn't do the job you need it to do. Luckily, thanks to our wide range of industrial flooring solutions, we are confident in our ability to offer the ideal floor to every business. Regardless of the type of floor you need or the unique requirements you have, we are able to offer a fantastic solution.
Though we have a wide range of industrial flooring solutions, we do have some that stand out as being very popular. These include Resin Flooring, Heavy Duty Screed Flooring, Chemical Resistant Flooring and Flexible Flooring. We're also able to assist with Concrete Floor Repair, Demarcations and Floor Seals.
At Impact Flooring, we understand that every business is different and therefore we also create more bespoke flooring solutions. We take into account the type of business you have and the work that is being done. For example, if the business uses a lot of machinery we will design a solution that's strong and durable. Similarly, if the businesses uses a lot of chemicals we will design a solution that's resistant to hazardous materials.
Industrial Flooring Solutions at Impact Flooring
If you're looking for expert industrial flooring solutions, there's no need to look any further than the Impact Flooring team. Our many years of experience has allowed us to grow and develop our skills, which means we're able to provide a professional service to all of our clients. We take the time to get to know you and your business, and then we create an industrial flooring solution that ticks every box. To find out more about any of our solutions or for more information on our services, get in touch. Contact the Impact Flooring team today on 0247 648 7413 or via the online contact form.