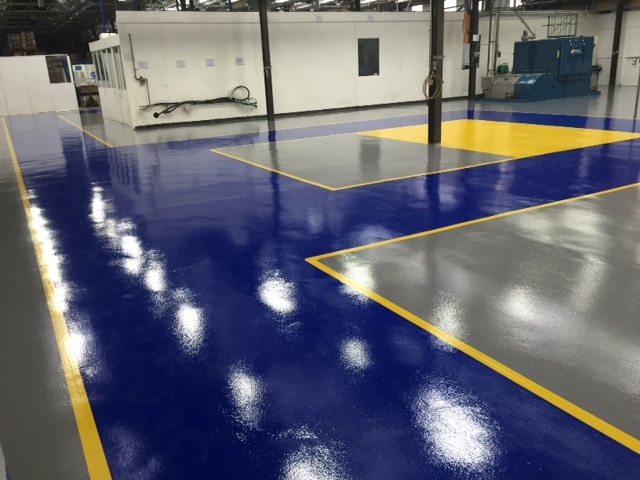 The UK's leading resin flooring specialist
Why Is Professional Factory Flooring So Important?
If you're searching for brand new factory flooring, you have come to the right place. At Impact Flooring, we understand the importance of providing a professional flooring solution to all of our customers. Regardless of business size or type, we work hard to ensure all of our customers receive the very best professional floor for their factory.
The Benefits of Professional Factory Flooring
There are a number of reasons as to why we are so dedicated to offering professional factory flooring and this is largely because professional factory flooring offers a lot more than the more amateur alternatives.
More Options and Flooring Choices – Professional factory flooring comes in a number of different options, meaning you have a wide range of flooring solutions to choose from. Whether you need a floor that's resistant to chemicals or one that offers flexibility, professional factory flooring can be installed to accommodate these needs. This leaves you with a factory floor that suits your business needs perfectly.
Longevity and Value for Money – Though there are many cheap factory flooring solutions out there, sometimes it's best to spend a little bit more; this will guarantee your factory will have flooring that will last a long time. It can be extremely tempting to choose a cheaper alternative, but this often leads to you spending more money in the long run. After all, cheap flooring tends to become damaged a lot quicker than high quality flooring and therefore more repairs are usually necessary.
Peace of Mind and Trust – Professional factory flooring brings with it a great deal of peace of mind, as you can trust that it will do the job you need it to. Rather than worrying whether or not your chosen industrial flooring solution will offer the strength and durability needed, you can confidently relax knowing what it's capable of.
Professional Factory Flooring at Impact Flooring
When it comes to professional factory flooring, Impact Flooring are on hand to help. By specialising in industrial flooring solutions, we are able to offer a high quality service and a range of different flooring options, many of which are ideal for a factory environment. Whether you are looking for epoxy flooring or something a little bit different, we can create the best bespoke solution for you. To find out more about factory flooring, get in touch. Contact the team at Impact Flooring on 0247 648 7038 or via the online contact form.