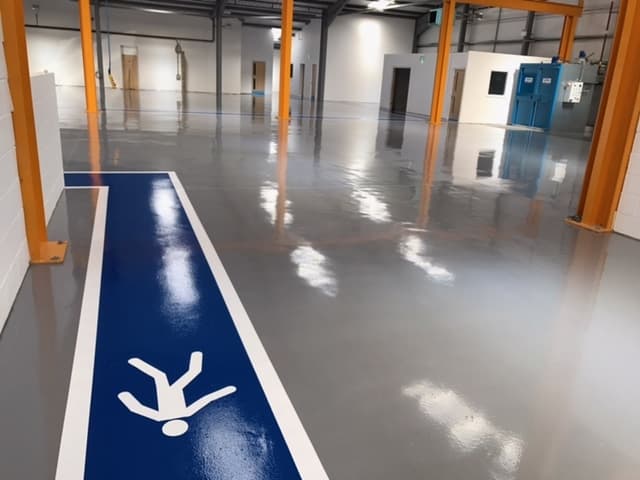 THE UK'S LEADING RESIN FLOORING SPECIALIST
Warehouse Flooring Birmingham
Have you ever stopped to consider the role your warehouse floor plays in your Birmingham-based operation? Choosing the right flooring isn't merely a design decision; it's a strategic one that impacts safety, functionality, and productivity. As specialists in warehouse flooring in Birmingham, Impact Flooring understands the complexities and offers tailored solutions that go beyond the surface.
Why Warehouse Flooring Matters
---
The warehouse floor is the foundation of your operation, literally and figuratively. It supports heavy equipment, endures constant foot traffic, and provides a clean surface for inventory storage. Here's a breakdown of why proper warehouse flooring matters.
Safety
Safety should always be a top priority for any business, but it's especially critical in a warehouse setting. With heavy machinery and equipment constantly moving around, the risk of accidents is high. A well-maintained warehouse floor can help prevent slips, trips, and falls, reducing the likelihood of injuries and ensuring a safe working environment for employees.
Functionality
Warehouse floors are subject to unique demands that require specific performance capabilities. The right flooring choice can enhance functionality by providing resistance to heavy loads, impact damage, chemicals, and abrasions. It can also offer features like anti-slip properties and easy maintenance to improve efficiency and workflow within the warehouse.
Operational Efficiency
Efficiency is more than just speed; it's about optimising resources. The right flooring can reduce maintenance downtime and associated costs. For instance, resin floors require less frequent cleaning and are more resistant to wear, allowing your operations to proceed without unnecessary interruptions.
Aesthetic Appeal
While aesthetics may not be your primary concern, a clean, attractive floor creates a better working environment. A well-maintained space can boost employee morale and even impress visiting clients or stakeholders.
Longevity
A well-chosen floor is a long-term investment. High-quality materials may cost more upfront but require less frequent repair or replacement. This durability translates to cost savings over the lifespan of the warehouse, making it a financially astute choice.
The Resin Revolution: Why It's the Best Choice for Warehouses
---
In recent years, resin flooring has emerged as a frontrunner in the warehouse flooring industry, and for good reason. This innovative material offers a blend of features that address the multifaceted needs of a modern Birmingham warehouse. Here's why resin flooring is increasingly becoming the go-to choice:
Unparalleled Durability: Unlike traditional flooring materials, resin floors are designed to withstand extreme conditions. Their resistance to cracks and wear means fewer interruptions for repairs, ensuring a more efficient operation. For example, a Birmingham-based electronics warehouse reported zero flooring-related operational halts a year after switching to resin.
Ease of Maintenance: Resin floors stand out for their low maintenance needs. They're easy to clean and don't require the frequent upkeep that other materials often demand. This benefit not only reduces downtime but also lowers long-term maintenance costs.
Safety Features: Safety is a paramount concern in warehouse settings. Resin flooring can be customised with anti-slip additives, offering an extra layer of protection against workplace accidents. This feature is especially crucial in warehouses that handle liquids or operate in high-moisture conditions. Additional additives and coats can also be applied to equip the flooring with anti-static and anti-microbial properties.
Cost-Effectiveness: While the initial cost may be higher, the long-term savings are significant. The durability and low maintenance of resin flooring mean fewer expenses for repairs and upkeep, making it a cost-effective choice in the long run.
Versatility: Beyond its functional benefits, resin flooring offers aesthetic versatility. It's available in various colours and finishes, allowing you to match your warehouse's visual theme without sacrificing functionality.
Quick Installation: In a fast-paced industry, time is a valuable resource. Resin flooring can be installed and cured faster than many traditional materials, allowing you to resume operations more quickly.
Environmental Benefits: In today's eco-conscious world, resin flooring stands out for its sustainability. Many options include recycled materials and are fully recyclable, aligning with modern sustainability goals.
By opting for resin flooring, you're making a strategic choice that offers a host of benefits, from safety to sustainability, making it an ideal solution for any modern Birmingham warehouse.
Why Choose Impact Flooring for Your Birmingham Warehouse Flooring Needs
---
In a market flooded with options, what sets Impact Flooring apart? It's not just our years of experience or the quality of materials we use; it's our commitment to providing a tailored solution that meets your specific needs. Our team of skilled contractors brings a wealth of experience to every project, ensuring quality and reliability from start to finish.
Expertise: With years of industry experience, our team has honed the skills required to deliver top-notch flooring solutions. We understand the unique challenges faced by Birmingham warehouses and offer solutions that are both practical and efficient.
Efficient Installation: We know that time is money. That's why our installation processes are designed to minimise operational downtime. Our team works around your schedule, ensuring that your business faces the least amount of disruption possible.
Quality Assurance: Our commitment to quality continues once the installation is complete. We offer robust post-installation support, including quick response times for any issues that may arise.
Customisation: Every warehouse is different, and so are its flooring needs. We offer a range of tailored options, from the type of resin used to custom colours and finishes, ensuring that your flooring solution is as unique as your business.
Competitive Pricing: At Impact Flooring, we understand the importance of cost-effectiveness. We offer competitive pricing without compromising quality, ensuring our clients get maximum value for their investment.
Sustainable Solutions: As a company dedicated to sustainability, we prioritise environmentally friendly solutions in all aspects of our work. From using recycled materials to reducing waste during installation, we strive to minimise our environmental impact.
Choosing Impact Flooring means partnering with a team that's committed to exceeding your expectations at every turn. From the initial consultation to the final installation and beyond, we're here to ensure that your warehouse flooring is a lasting investment in your business's success.
If you're looking for a flooring solution that ticks all the boxes, your search ends here. Contact us at Impact Flooring to discuss your needs and discover how we can make your Birmingham warehouse a safer, more efficient, and more pleasant workplace.
REQUEST A CALLBACK
Contact Us
"*" indicates required fields
For bespoke industry flooring solutions talk to Impact Flooring today.
We offer free no obligation advice and can provide a price range on the first call.



Impact House, Short Street, Nuneaton, Warwickshire, CV10 8JF