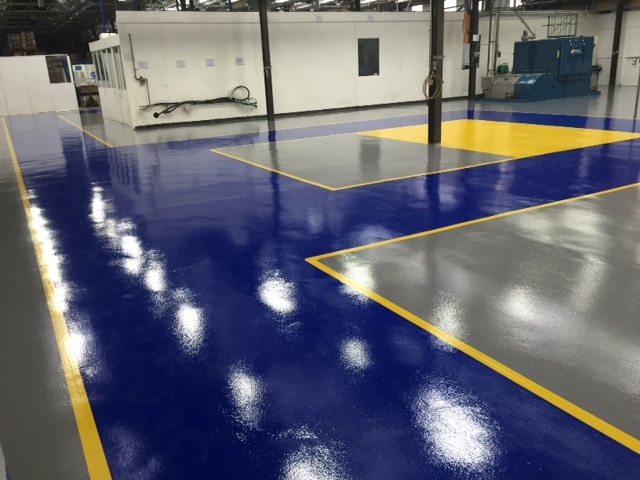 The UK's leading resin flooring specialist
Bespoke Colour Flooring for Warehouses and Factories
Every business is different and though the standard flooring options do work well for all, it's always nice to add a personal touch. At Impact Flooring we have a number of different flooring solutions available including epoxy flooring, polyurethane flooring and screed flooring. However, we don't just install them in a 'one colour suits all' manner. Instead, we offer them in range of standard colours.
It wasn't long into offering our solutions that Impact Flooring realised that offering bespoke flooring colours allowed our customers a great deal of freedom; freedom to create a new floor that ticks every box in regards to function and finish. After all, you shouldn't have to settle for a white or grey finish when red or blue would improve the overall look of the floor.
Bespoke Flooring Colours for All Industries
When it comes to warehouses and factories it would be easy to assume that a dull and boring colour is all that's needed and though this is may be true for some industrial environments, many warehouses and factories can benefit from something a little more interesting. All of the flooring solutions we install at Impact Flooring are available in different colours. Plus, RAL and BS colours can be created to fit your exact requirements; this means corporate colours and exact company colour matches can be used.
These bespoke colours and colour ranges can be used by any industry, but they are especially popular among those who have regular visitors. An environment that is likely to be seen by customers or the public looks extremely professional and well maintained if the colour of the floor works well with other branding. Additionally, bespoke coloured flooring can brighten up the entire room, taking it from a mechanical and industrial environment to one that has a touch of something special.
Flooring Solutions at Impact Flooring
At Impact Flooring we offer a range of flooring solutions, each with different characteristics and properties; this allows all industries and businesses to find one that meets their needs and requirements. Once you have chosen the best flooring solution for your business, it's time to think of the colour. Whether you choose one from our colour chart or require something bespoke, we're happy to help.
For more information on Impact Flooring and the flooring colours we have available, get in touch. Contact us today on 0247 648 7235 or via the online contact form.