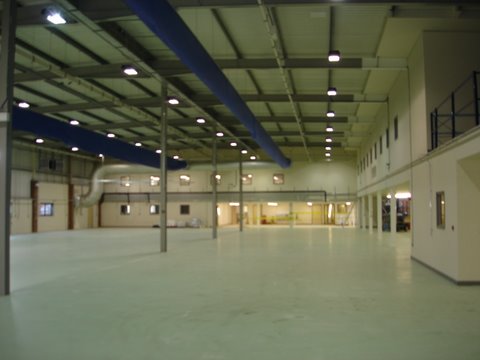 The UK's leading resin flooring specialist
Bespoke Factory Flooring Designed For Your Business
If you're looking for bespoke factory flooring, you have come to the right place. At Impact Flooring, we offer a wide range of industrial flooring solutions. This includes bespoke flooring solutions for factories and other similar businesses. We believe that we are able to provide an unmatched service to all factories, regardless of size and industry.
How Do We Design Bespoke Factory Flooring?
We Get to Know Your Business – Before we begin designing any of our bespoke factory floors, we take the time to get to know the business. We find out who you are, what you do and what you need from a floor. Then, we can design a floor that ticks every box.
We Consider Vehicles, Materials, Chemicals and Machinery in Use – There is a high chance that your factory will use heavy machinery, harsh chemicals and a selection of different materials. It may even have a great deal of foot traffic and vehicle traffic. This is something that we consider when we design your bespoke factory floor. We create floors that can withstand everything that an industrial environment may throw at it.
We Look at Similar Factories – Though every factory is different, we do take a look at what other similar businesses use for their flooring. This allows us to work out what works and what doesn't work, as well as helping us to find an industrial flooring solution that goes above and beyond what your competitors have. With us, your factory will stand out for all of the right reason.
We Take Note of Your Budget – It's safe to say that investing in a new factory flooring isn't cheap. In fact, having a new factory flooring installed can put a dent in your budget. This is why we always take note of your budget when we're designing new industrial flooring solutions to ensure that it's as affordable as possible. We work hard to find a way to give you the flooring that you need, without breaking the bank.
At Impact Flooring, we're able to design completely bespoke factory flooring for your business. It doesn't matter on the industry that you work in or what the factory produces, you deserve to have an industrial floor that works for you. To find out more about factory flooring or any of our other industrial flooring solutions, get in touch. Contact Impact Flooring today on 0247 648 7040 or via the online contact form