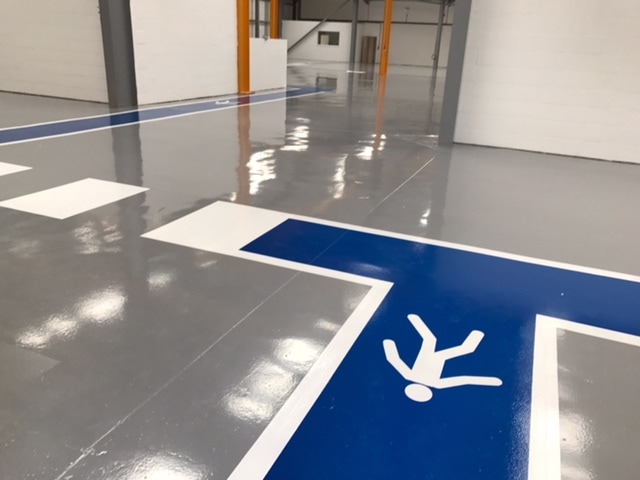 The UK's leading resin flooring specialist
The Buzz Surrounding Epoxy Flooring
You may have heard the buzz surrounding epoxy flooring and polyurethane flooring or perhaps the news hasn't reached you yet. Either way, epoxy and polyurethane are some of the most popular industrial flooring materials at the moment, and with good reason. Epoxy flooring is a great choice for industrial buildings such as factories, warehouses, storage units and automotive businesses. It offers a high-quality flooring solution at an affordable cost, without the hassle of organising a lengthy installation.
What Makes Epoxy Flooring a Great Flooring Choice?
When an industrial space needs a new floor, it's important that a strong and durable option is selected. As well as needing to be able to withstand the daily wear and tear expected in an industrial environment, the flooring needs to look the part. This is where epoxy flooring really excels above other similar alternatives.
Epoxy flooring is quick to install, meaning there's no need to disrupt work for too long. At Impact Flooring we know that having a new flooring installed can be stressful, therefore we work quickly and offer installations at times that are convenient for you.
Epoxy flooring can be finished with decorative patterns, stencils and demarcations. This means that the flooring can be designed to look great for guests or visitors. Plus, areas of importance such as emergency exits and pedestrian walkways can be highlighted.
Epoxy flooring can withstand heavy machinery and heavy vehicles. So, there's never a worry of cracks forming just because the business uses HGVs or forklifts.
Epoxy flooring has a long lifespan and it doesn't need regular repairs. This is ideal for those that are looking for a long-term flooring solution and don't want to have to invest in another replacement in a few years' time. 
Epoxy Flooring Installation at Impact Flooring
At Impact Flooring we offer a range of different industrial flooring solutions, but epoxy flooring is definitely one of the best. We recommend epoxy flooring to many of our customers and, as it is so versatile, it works well for most industries. However, as epoxy flooring is such a specialised option, it's important that it is installed by experts. Our team of trained professionals take care of everything, from floor preparation right through to finalising the installation.
To find out more about epoxy flooring, its benefits and the solutions we provide at Impact Flooring, get in touch. Contact us today on 0247 635 0000 or get in touch using the online contact form.