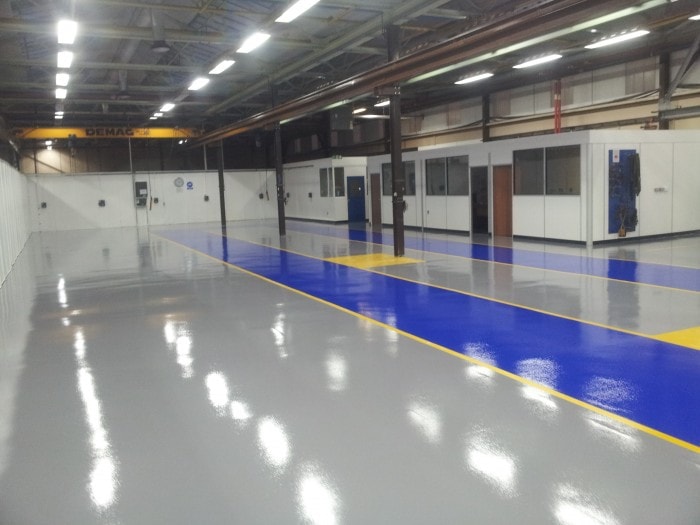 The UK's leading resin flooring specialist
Is It Time To Invest In New Industrial Flooring?
When it comes to investing in new industrial flooring, it can be difficult to know where to start. With an entire business relying on you choosing the best flooring for your industry and an important budget to consider, you don't want to be left having made the wrong choice. This is why it's important to seek the help of experts, like the team here at Impact Flooring.
Before Investing In New Industrial Flooring…
Rather than jumping right in and stressing yourself out over choosing the very best new floor for your business, there are a few things to take into consideration. Here are some of the top things you should do:
Think About What You Need From An Industrial Floor
As every business is different, your business is likely to have very specific needs when it comes to flooring. For example, some businesses will need a floor that can withstand chemicals and others will need a flooring that's somewhat flexible. Before deciding on the best industrial flooring, think about what you need the flooring to provide.
Research All Of Your Options
There are a lot of different flooring options available, such as chemical resistant floors and epoxy floors. The chances are there will be a few that will tick all of the boxes and so it's important to research them thoroughly; this will help you to distinguish the best from the rest.
Look At Different Finishes
Industrial floors can be finished in a lot of different ways and there's a lot of freedom to choose the finish you want. Even if the flooring won't be seen by members of the public or visitors, the finish is important. For example, demarcations and stencils can be used to highlight emergency exits and pedestrian walkways.
Find A Professional Industrial Flooring Company
Industrial flooring isn't easy to install and it requires a team of skilled professionals. At Impact Flooring we offer a number of different flooring solutions, all of which we install to the very best standard. This leaves you with a high quality flooring solution that's going to stand the test of time.
Contact Impact Flooring Today
To find out more about investing in new industrial flooring or to ask any questions, get in touch. At Impact Flooring we are always on hand to offer help and advice. Contact us today on 0247 635 0000 or alternatively, get in touch online.