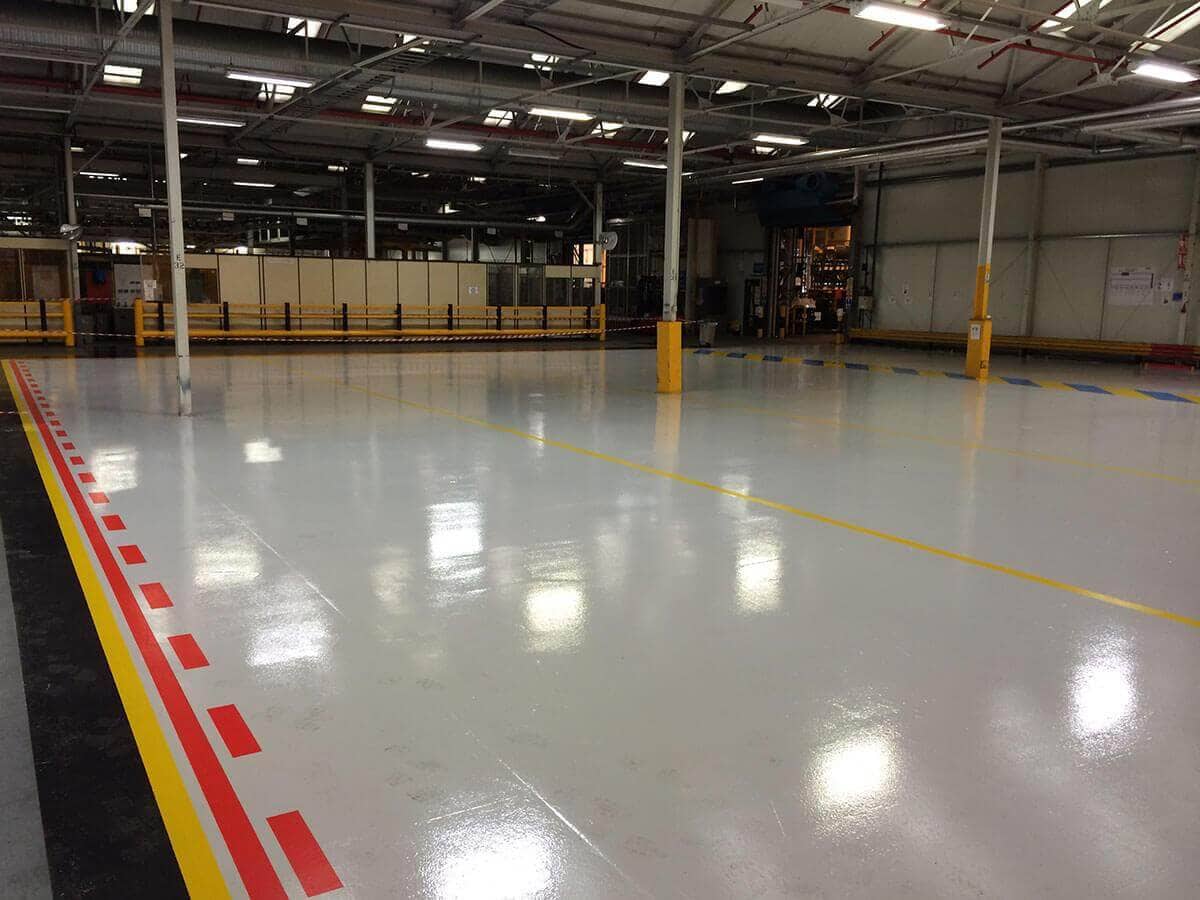 The UK's leading resin flooring specialist
Factors that Influence Epoxy Flooring Cost
Epoxy flooring is a popular choice for businesses, as it offers a range of benefits that can improve the look and function of your space. However, price is always a significant consideration, and you'll want to understand everything that influences the price of epoxy resin flooring projects before making any decisions.
What is epoxy flooring?
Epoxy flooring is a type of flooring made up of two components: a resin and a hardener. When these two materials are mixed, they form a durable and long-lasting substance that can be used on many types of surfaces. Epoxy resin flooring is often used in businesses and commercial settings, as it can provide a tough and seamless surface that is resistant to damage from shock impacts.
There are many benefits of epoxy flooring. Some of the key benefits include:
Durability: Epoxy resin flooring is extremely tough and can withstand a lot of wear and tear. This makes it an excellent choice for businesses and commercial settings, as it can withstand damage from heavy machinery, large vehicles, and constant foot traffic.
Resistance to stains and chemicals: Epoxy flooring is resistant to most stains and chemicals, so it can easily be cleaned and maintained.
Aesthetic appeal: Epoxy flooring can be installed in various colours and styles, so you can choose a look that will suit your business or commercial setting.
Anti-static properties: This flooring offers anti-static properties, so it is attractive to commercial companies where this would be beneficial.
What influences epoxy flooring cost?
So, just how much is epoxy flooring? If epoxy flooring sounds like the right choice for your business or commercial setting, it's crucial to understand the things that can influence its costs. Knowing these factors will help you find the epoxy flooring best suited to your needs and budget. Below, we will take a closer look at some of these factors and discuss how they can affect the overall cost of your epoxy flooring project.
Size of the area
The size of the area needing to be covered will play a role in the overall price of epoxy flooring. Larger rooms will require more materials and will likely take longer to install, which will result in a higher final price. If you are covering a large area, such as a warehouse, it is important to factor this into your budget and make sure you are prepared for the increased expense.
Geographical location
Impact Flooring operates around the UK, but we are based in Warwickshire. Therefore, installations that require us to travel further or accommodate our team overnight may be more expensive.
Quality of the sub base
When installing epoxy resin floors, one of the most important factors to consider is the quality of the sub-base. The sub-base is the layer of material that sits below the epoxy coating and provides a stable surface for the epoxy to adhere to. If the sub-base is not adequately prepared or is of poor quality, it can affect the overall durability and lifespan of the epoxy flooring. There are many different types of epoxy products to choose from, but if your sub-base is full of holes or cracks, it may require some preparation work before applying, which will increase the project's cost.
There are several things you can do to ensure the quality of your sub-base:
Ensure the surface is level and smooth
Remove any debris or obstructions from the surface
Apply a coat of epoxy primer to help improve adhesion
Install an underlayment if necessary
Sealing coats
Sealing coats protect the epoxy flooring from dirt, dust, and other debris that can cause it to wear down over time. The type of sealant you use will affect the project's overall cost. Some sealants are more expensive than others, so it's important to choose the one that will best suit your needs.
An example of a sealing coat that can be applied is water-based polyurethane. One of the downsides to epoxy floors is that they can yellow in direct sunlight. This issue could be overcome by using an aliphatic polyurethane coat over its surface, which will add to your expenses but make up for this with durability and protection against UV rays.
Does the floor require some build-up?
Epoxy flooring can be applied directly to a concrete surface, but in some cases, it may be necessary to apply a build up first. This is often the case when the surface is not entirely flat or has any defects. Applying a build-up will help create a level surface and prevent the epoxy from seeping through cracks in the sub-base.
If the build-up required is only a matter of millimetres, this can be achieved by adding a filler product to the epoxy and applying it to self-level the imperfections. When a more drastic build-up is needed, a fast setting and self-levelling screed may be necessary before the epoxy can be installed. The cost of building up a floor with epoxy will vary depending on the size of the area, the type of material used and the depth of build-up.
What Type Of Epoxy Will You Use? (Solids Epoxy Or Water Based Epoxy)
The type of epoxy used can also have an impact on the cost. The two most popular types of epoxy used today are water-based and 100% solids.
Solids Epoxy
Solids epoxy is the more traditional type of epoxy that has been used for many years. It dries quickly and forms a robust and durable finish. When it comes to performance and longevity, solid-based epoxy is the best. You could pay almost twice as much for your project, but you will get a higher quality product that should be considered as a long term investment. Some benefits of this type of epoxy include:
High resistance to abrasion
Provides greater chemical and corrosion protection
Superior epoxy coating for heavy traffic areas such as industrial floors or warehouses
A thicker mixture that corrects and covers imperfections more readily
Water-Based Epoxy
This epoxy is water-based and used as an environmentally friendly alternative. This epoxy has good chemical resistance and protects against staining. It is similar in performance and durability, but it may wear more quickly than solid epoxy. Benefits of water-based epoxy include:
Cheaper alternative to solid epoxy
A thinner substance that is easier to apply
It contains little or no VOCs and emits no toxic fumes while curing
The Design Finish
Many businesses choose to use epoxy flooring, as it has a range of options for the final design finish. You can choose a solid colour, or you can go for a more decorative finish with patterns or designs. You can even include decorative quartz flakes or choose a metallic finish. The cost of the finish will vary depending on the complexity of the design and the type of materials used.
Cost Of Installation
While you may think that installing an epoxy floor yourself will reduce the overall project cost, hiring a professional epoxy flooring contractor offers many benefits. A contractor will have the experience and expertise to carry out the installation correctly and ensure that it meets all your requirements. They will also have access to a broader range of epoxy flooring products and finishes, which means you can be sure to find the perfect finish for your business.
A contractor will advise you on the best epoxy flooring system for your needs and offer a cost-effective solution that will meet your budget. They will also take care of all the necessary preparation work, such as building up the surface if needed, and curing times will be reduced as a result. In addition, any warranty offered by the epoxy flooring system will only be valid with a professional epoxy flooring installation. Therefore, while you can choose to do the epoxy flooring work yourself, it is recommended that you use a contractor for your installation, as it can save money in the long run.
Contact us
Impact Flooring are specialists in commercial resin floors and can offer expert advice on which flooring solution is most suited to your needs. To find out more about the cost of epoxy resin flooring or for a free no-obligation quote, please get in touch with us.