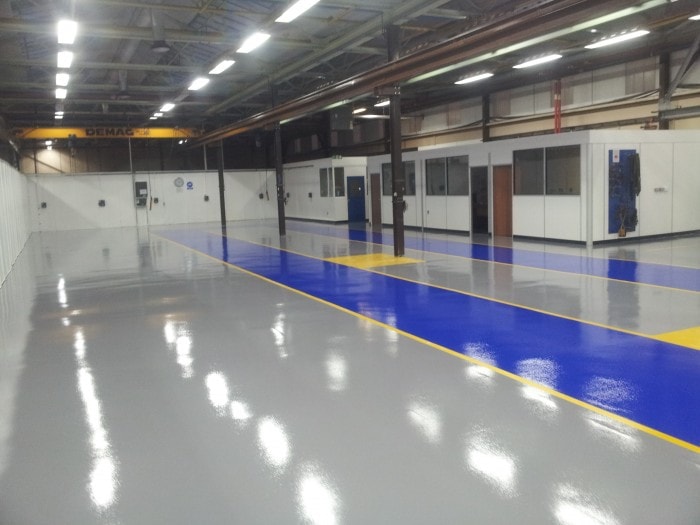 The UK's leading resin flooring specialist
What Industrial Flooring Solutions Can You Choose From?
Many years ago, the choices a business had for their flooring were few and far between. In fact, a lot of industries had to settle for cheap floors that could be easily installed. However, things have changed. There are now a lot of different industrial flooring solutions to choose from, meaning the flooring solution you choose is guaranteed to do what you need it to. Better yet, they're all available here at Impact Flooring.
As an industrial business, you're free to choose whatever industrial flooring solution best suits your needs. For example, if you need a floor that can withstand heavy machinery, that's not a problem. Similarly, if you need a floor that looks good enough to be seen by visitors, we can install one. Luckily, you're not expected to know the flooring solution that's best suited to your environment; that's where we step in. Through our experience and knowledge, we can recommend the top industrial flooring solutions for you.
Top Industrial Flooring Solutions
At Impact Flooring, we have a range of industrial flooring solutions for our clients to choose from. Rather than specialising in one or two solutions, we go above and beyond to make sure we have everything our clients could need. We're even able to offer bespoke options if it's required. Our industrial flooring solutions include:
With these services and our many others, we are able to ensure we can provide the full range of flooring solutions to many different industries. Whether you're in need of an entirely new floor or you simply require a brand new coating, we can help.
Flooring Solutions at Impact Flooring
When you choose Impact Flooring for your flooring solution, you're guaranteed a professional service. Everyone at Impact Flooring is dedicated to providing a high quality service from start to finish, meaning you don't need to worry about a lack of professionalism or lengthy delays. In fact, we focus on completing all of our jobs to the given deadline and at a time that suits you.
When Impact Flooring begin a project, we see it through. To find out more about Impact Flooring and our different industrial flooring solutions, get in touch. Contact us today through the online contact form