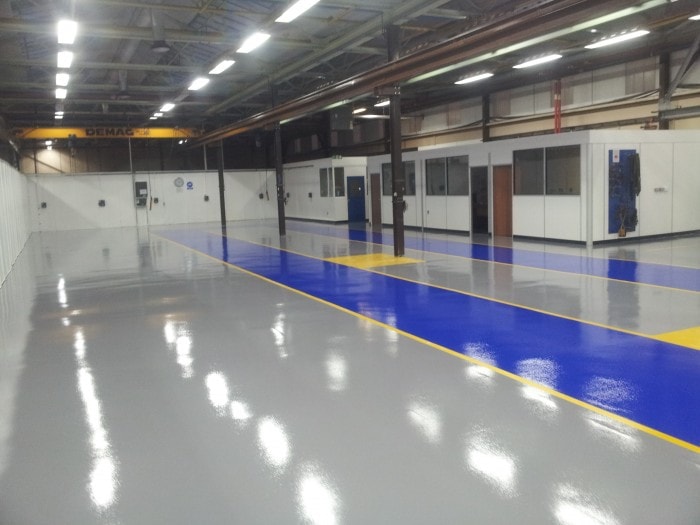 The UK's leading resin flooring specialist
Industrial Flooring Solutions At Impact Flooring
So, you're in need of a new industrial floor and have no idea where to start? Let us help. There are a lot of companies out there that offer factory flooring, epoxy flooring and different industrial flooring solutions. So, how do you know where to head? At Impact Flooring we set out to offer something a little more than you're average industrial flooring solutions. In fact, we like to think we go above and beyond what our clients require.
Why Choose Impact Flooring For Industrial Flooring Solutions?
Whether you're looking for flooring repairs in your factory, need an entirely new flooring installed in an automotive environment or require a flooring finish to be proud of, we can help. At Impact Flooring we offer the same great service to all industries of all sizes. We understand that the flooring is, quite literally, the base of any working environment and ensuring it is of a high quality is key. When you choose Impact Flooring you are choosing:
A professional team that offers a friendly service.
A high quality service with high quality materials.
A company that offers a great range of flooring options including epoxy and polyurethane flooring.
A group of professionals who put their client's needs first.
A team that are skilled enough to offer all important flooring services such as flooring installations, coving, repairs and coatings.
A service that is efficient and meets all deadlines, without sacrificing the quality of work being done.
To have a flooring solution installed with minimal disruption to the workplace.
A team that are able to answer any queries, as well as giving advice and recommendations.
Experience, knowledge and skill.
Whenever we take on a project at Impact Flooring, we make sure to follow it through from beginning to end. This means being there for assessment, preparation, installation, completion and repairs if necessary. In fact, with so many flooring services on offer we're able to take on even the most complex projects. It's important to remember that every environment is unique and no two floors are the same. Even those that seem similar are likely to have slightly different requirements; this is why we handle every new project as one that is unique.
Find Out More About Impact Flooring
To find out more about Impact Flooring and what we do, or to ask a question specific to your industry – get in touch. Contact us today via the online contact form.