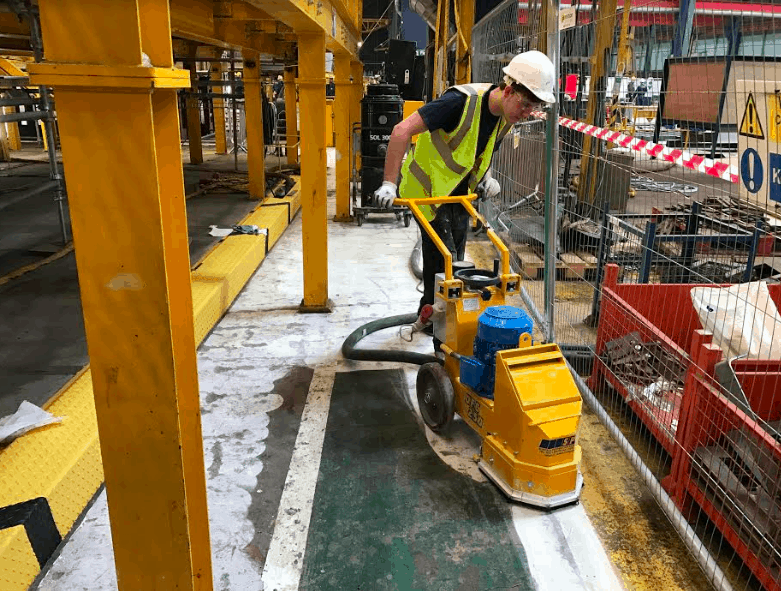 The UK's leading resin flooring specialist
Why is Floor Preparation Important?
If you're looking to have a new industrial flooring solution installed in your workplace, it's vital that you arrange for professional floor preparation to take place beforehand. Without floor preparation, it's extremely difficult to install a floor to the high standard that an industrial business needs. This can lead to damage, cracks and a replacement floor being needing a lot sooner than usual. Luckily, floor preparation is a service that we offer.
Floor Preparation for Industrial Flooring
It is vital that a floor is prepared before a new industrial solution is installed. This ensures that the flooring can be installed to a high standard and on a flat surface. Without floor preparation, it's extremely hard to install a floor that does the job and looks professional. There are a wide range of ways that we are able to prepare a floor and we choose our method based on the specific type of floor that's being installed. This is because certain methods are better suited to certain types of flooring. More often than not, we choose between shot blasting and diamond grinding. Shot blasting and diamond grinding are both carried out by our team of professionals, all of whom are qualified and trained in floor preparation.
Though we offer floor preparation to everyone that we install a brand new industrial flooring for, we also offer it as a standalone service. This means that even if you're having an industrial flooring installed by another team, Impact Flooring are still able to ensure that the floor is well prepared beforehand.
Floor Preparation at Impact Flooring
At Impact Flooring, we are proud to offer a full industrial flooring service. This involves everything from floor preparation, right through to the finished floor. A lot of businesses often forget about floor preparation and underestimate its importance, but this can lead to a low quality floor installation. When it comes to your brand new industrial flooring, ensure that floor preparation is completed before any other work commences. This is where Impact Flooring comes in.
We're able to offer an unmatched floor preparation service, something that not all of our competitors are able to do. At Impact Flooring, we go above and beyond what you'd expect. To find out more about professional floor preparation or for information on any of out other services, get in touch. Contact Impact Flooring today on 0247 635 0000 or via the online contact form.