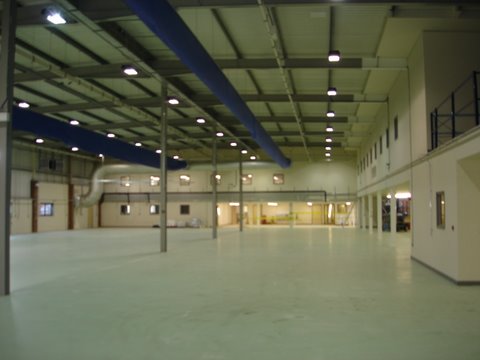 The UK's leading resin flooring specialist
Floor Preparation for Industrial Flooring
Before any work can be done on an industrial floor, preparation must take place. At Impact Flooring we offer floor preparation to all of our customers and provide it as part of all installations. However, we also offer it as a separate service for customers who simply need their flooring in a fit state for future installations.
Types of Floor Preparation for Industrial Floors
As all industrial environments are different, we offer bespoke floor preparation solutions and packages; what's ideal for one business may not work for another. We take the time to get to know the industry and what type of flooring is going to be installed, and then we prepare the floor accordingly.
Our two main floor preparation services are shot blasting and diamond grinding. Both have their different uses and we suggest whichever we feel is the solution for the floor a business will be having. Shot blasting and diamond grinding are both carried out by our team of Impact Flooring professionals, all of which have a great deal of experience and expertise.
Shot Blasting: Shot blasting is used on untreated concrete floor to remove coatings and finishes. As it is quite a thorough and rough method of preparing a floor, we recommend this option when a thick flooring is going to applied on top of the concrete. Shot blasting isn't suitable if the floor is only going to be painted.
Diamond Grinding: Diamond grinding is used when a floor needs to be made thinner, as it removes thickness and creates a smooth finish. It can also be used when sections of flooring need to be removed to make room for drainage and other installations. Diamond grinding is often used when a floor is going to be painted.
Having a floor prepared before a new flooring solution is added is important, otherwise there's a high chance that the flooring won't be able to be installed correctly; this can lead to problems and repairs.
Industrial Flooring Solutions at Impact Flooring
At Impact Flooring we offer the entire flooring solution package; from floor preparation to the finishing touches, we take care of everything. Rather than having to find a different team for every part of the installation process, you can enlist Impact Flooring and know that the same dedicated individuals will see the project through to the end.
Having worked with a range of different businesses, we're able to install new floors for all industries. Get in touch today to find out more or call us on 02476 350 000.