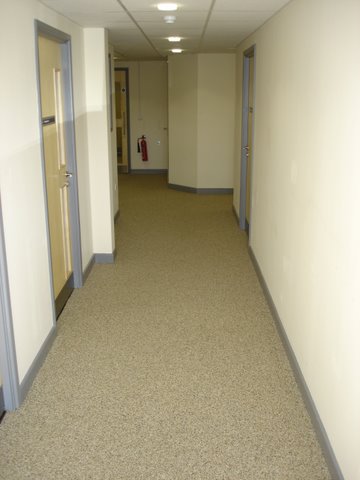 The UK's leading resin flooring specialist
Hallway Flooring
Hallway & Corridor Flooring
---
Choosing and installing the correct type of flooring in your commercial hallways and corridors is important for both aesthetic and practical reasons. Not only do you want your business to look its best, but you also need a floor that can withstand the high foot traffic these areas typically see.
The Best Flooring Solutions for Hallways
---
Impact Flooring is a UK market leader in designing and installing high-quality resin flooring solutions. Our expert team has years of experience working on all-sized projects, from small boutiques to large warehouses. We understand the unique challenges that come with choosing the best flooring for hallways and corridors, and we're here to help you find the perfect answer for your business. Whether you're looking for a durable, easy-to-clean floor that can handle heavy foot traffic or a slip-resistant finish that will keep your employees and customers safe, we can help.
Floor Coatings for Hallway and Corridor Areas
---
While no two premises are the same, there are some common flooring challenges that tend to crop up in hallway and corridor areas. High foot traffic, for example, can quickly wear down even the most durable flooring materials. And if your business is open to the public, you'll need to choose a floor that is easy to clean and maintain, as well as being slip-resistant.
Our resin flooring is ideal for a variety of facilities, including:
Hospitals and Medical Practices
Schools and Universities
Hotels and Restaurants
Spa and Leisure Facilities
Retail Stores
Office Buildings
Main Requirements for Hallway Flooring
---
Choosing the right flooring for your business is an important decision, and there are a few key factors you'll need to consider before making your final choice. Here are a few of the main requirements to keep in mind when choosing the flooring for your hallway or corridor areas:
Durable and hard-wearing – Resistant to impact, scratching, scuffs, and stains
Easy to clean and maintain
Longevity
Aesthetics – customisable, available in a variety of colours
Safety – Slip-resistant, fire-retardant, hygienic/antimicrobial, anti-static
Benefits of Our Hallway Flooring
---
Resin flooring is a popular choice for commercial hallway and corridor areas, as it ticks all the boxes and more when it comes to the main requirements for these types of floors. Some of the key benefits of choosing our hallway flooring system include the following:
Cost-Effective Solution
---
While the initial investment for a resin floor may be higher than other options, it's important to remember that this flooring will last for many years with little to no maintenance. So, in the long run, resin flooring is a very cost-effective solution for business owners.
Versatile & Durable
---
Resin flooring is a highly versatile material that looks the part in a variety of settings. It's available in a wide range of colours, textures and finishes, so you can easily create a look that reflects your brand identity. Resin floors are also one of the most durable flooring options on the market. They can withstand constant use and rigorous cleaning schedules without worrying about scuffs, scratches and stains.
Easy to Clean & Maintain
---
No more hours spent scrubbing your hallway floor! Thanks to the non-porous and seamless nature of our resin flooring, it's quick and easy to clean, even in high-traffic areas. And because there are no cracks or crevices for dirt and dust to gather in, you can be confident your floor will always look its best.
Hallway Flooring Specialists
---
At Impact Flooring, we understand that each business has unique requirements. That's why we offer a bespoke service to all our clients, ensuring that you get the perfect flooring system for your space.
We take into account the specific footfall and usage patterns of your business, as well as your budget and aesthetic specification, to create a solution that is both practical and stylish.
Our specialists are always on hand to offer advice and guidance on choosing the best flooring for your hallways and corridors. We will be with you every step of the way, from initial consultation right through to installation and aftercare.
Contact Us
If you want to learn more about our hallway flooring services, please don't hesitate to get in touch. We would be happy to discuss your specific requirements and provide a free, no-obligation quote.
REQUEST A CALLBACK
Contact Us
"*" indicates required fields
For bespoke industry flooring solutions talk to Impact Flooring today.
We offer free no obligation advice and can provide a price range on the first call.



Impact House, Short Street, Nuneaton, Warwickshire, CV10 8JF