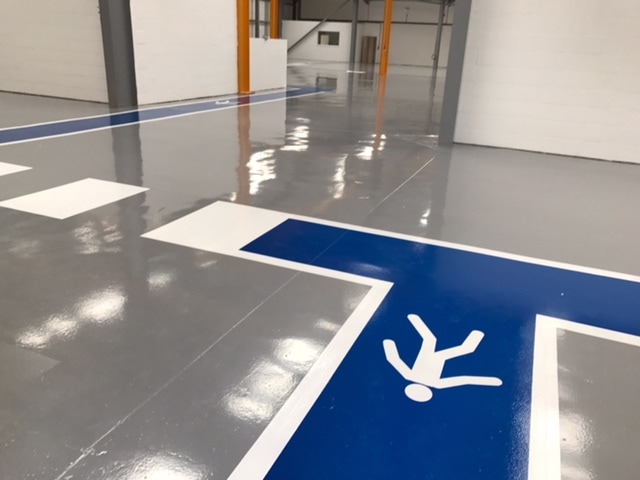 The UK's leading resin flooring specialist
Are Industrial Floor Coatings Worth It?
If you're looking at having an industrial flooring solution installed, you may be looking at having a floor coating added. Though this does come at an extra cost, it's something that we advise to most of our customers. This is because there are a number of benefits and it creates a high quality finish.
The Benefits of Industrial Floor Coatings
There are a number of benefits that come with industrial floor coatings, which is why so many businesses opt to have one installed as part of their chosen industrial flooring solution. For example, a coating makes the floor a lot more strong and durable. This means that it's less likely to become damaged and it won't need to be repaired quite as quickly. In the long run, this can save you a lot of money. Plus, it keeps the flooring looking its best for longer. Floor coatings can also be used to highlight different areas of an industrial environment, such as fire exits and walkways. This can help to keep things organised, professional and safe.
When you choose to invest in an industrial floor coating, you are choosing to make cleaning easier. A floor coating can help to reduce the amount of dust and dirt that becomes trapped in the floor, a lot of which can be hard to remove. When a floor coating, cleaning is a lot simpler. This helps with health and safety.
Floor Coatings at Impact Flooring
At Impact Flooring, we firmly believe in the benefits that come with industrial floor coatings. Though a lot of industrial flooring solutions do work well without a professional coating having been applied, floor coatings are something that we do advise. This is why we offer so many fantastic options. Rather than simply offering one or two key industrial floor coatings, we offer a wide range. Not only will you be able to choose a floor coating that perfectly suits your business, you can relax knowing that a team of professionals will be installing it. All you need to do is sit back and wait for your brand new industrial floor to be ready for use. This isn't something that will take a long time, as we always work as efficiently as we possibly can. To find out more about floor coatings at Impact Flooring, get in touch. Contact Impact Flooring via the online contact form.