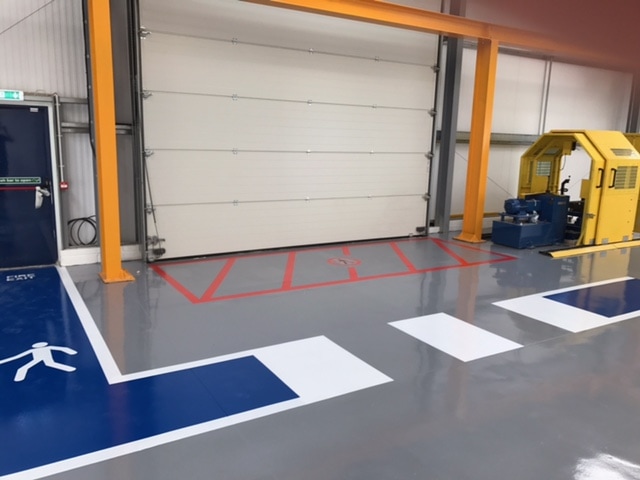 The UK's leading resin flooring specialist
Choosing An Industrial Flooring Solution Doesn't Need To Be Daunting
When it comes to choosing an industrial flooring solution, a lot of out customers initially think that the entire process is going to be one of complexities and confusion. Simply, this isn't the case. Though deciding on a brand new floor for your factory or warehouse may seem daunting, it doesn't need to be. With the right team of experts and a range of industrial solutions to choose from, you'll be on your way to having a brand new floor in no time.
Tips for Choosing an Industrial Flooring Solution
Think About Your Specific Business – Every business is different, which means that the floor you choose should be unique to you. Rather than copying a competitor or choosing the most popular flooring solution, think about what type of floor will benefit your working environment the most.
Consider What You Want – There are a lot of different flooring options to choose from, so make sure you really consider what it is you want. Do you want a floor that is durable or are you more concerned about the way it will look? Do you want a floor that's easy to clean or are you more interested in its longevity? By asking yourself these questions, you can set out knowing what it is you need from your industrial flooring solution.
Find a Team of Experts – The best way to make the process of choosing an industrial flooring solution that little bit easier is to enlist the help of a team of experts. At Impact Flooring, we have worked with a range of customers and we have the expert knowledge that allows us to suggest the solutions that will work best for you. Whether you're torn between two options or you don't know where to start, an expert will be able to offer help and advice.
Industrial Flooring Solutions at Impact Flooring
At Impact Flooring, we are able to boast a number of years working in the industrial flooring industry, which has given us to great insight into what works and what doesn't. We know what floors are best suited for different environments and we know the finishing touches that'll turn a standard floor into one to be proud of. If you're in the market for a new industrial flooring solution or you just want more information, get in touch. Contact Impact Flooring today on 02476487184 and speak to a member of the team. Alternatively, get in touch online.