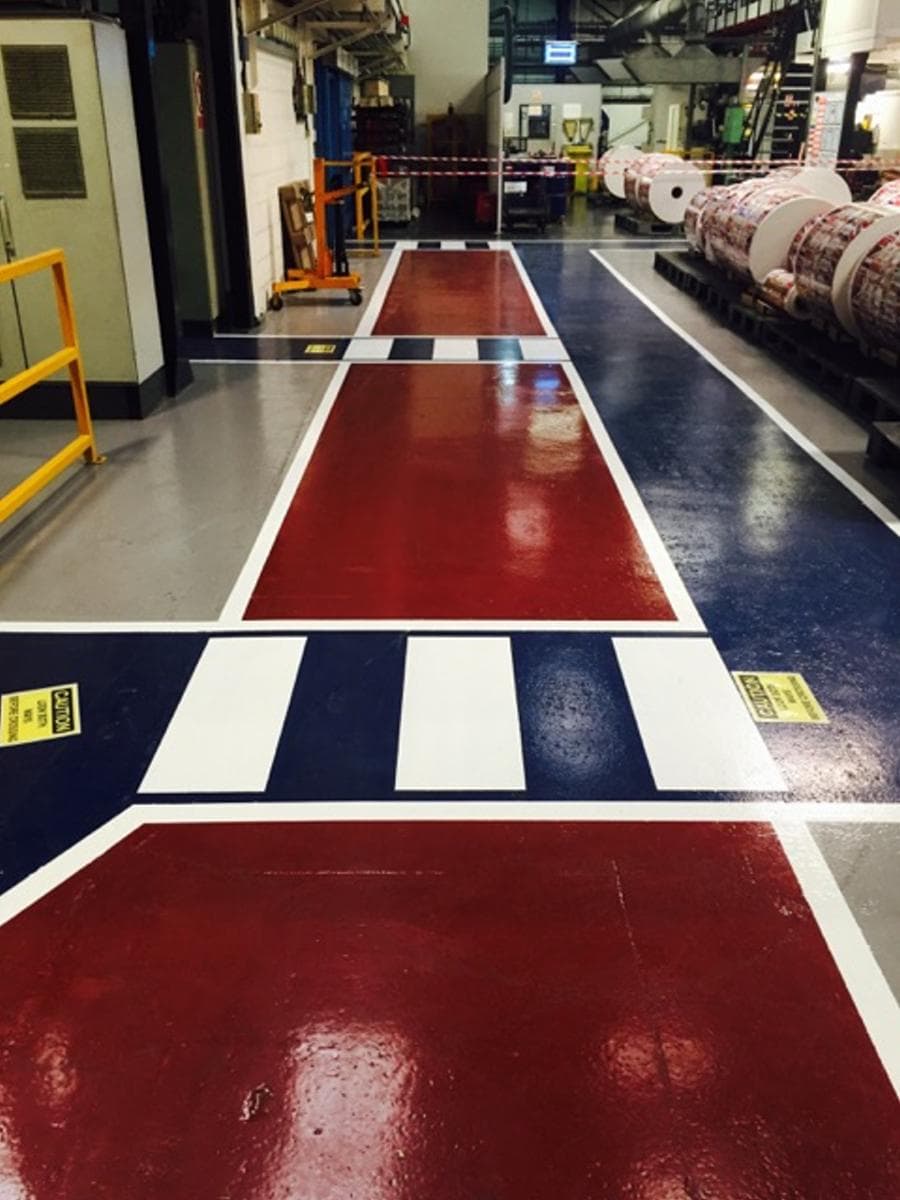 The UK's leading resin flooring specialist
Demarcation On Your Factory Flooring
Anyone who owns or works in an industrial environment is sure to understand the importance of having a safe working environment at all times. Though it is up to those using the factory to keep it as free from hazards as possible, there are additional ways of keeping a working environment safe. This is where flooring demarcation comes in.
Why Have Demarcations Added to Your Factory Flooring?
Demarcation refers to the lines and markings that are placed on the floor as guides; this could be in the form of health and safety signs, as a way to highlight pedestrian walkways or to show areas that are out of bounds for employees. Markings placed on the factory floor are a great way to remind people of the health and safety rules that are in place, as well as separating different areas of the room.
Many businesses overlook the importance of demarcations on factory flooring and view it as being an added expense that is not entirely necessary. Though not having demarcations doesn't affect the quality of the factory floor, it can cause confusion in the workplace. There are a number of benefits to having floor markings, such as:
They keep people separate from vehicles, meaning there is a reduced risk of accidents and injury.
'Keep Clear' areas can be clearly marked to ensure fire exits are never blocked.
Visitors can be directed from the entrance and through the workplace via clearly marked pathways, avoiding machinery and dangerous chemicals.
Any required health and safety regulations can be clearly stated and met.
Workplace injuries can be reduced as unsafe and out of bounds areas are highlights, and areas with dangerous substances are clear.
Demarcation Logos and Branding
As well as having demarcations on your factory flooring for health and safety benefits, there is also a branding element that can be included. At Impact Flooring we can add company logos to the floor and demarcations can be created in branded company colours; not only does this ensure the workplace looks professional, it also adds a little more personalisation to the area. There is also the option to have a patterned finish on the floor for aesthetic purposes.
At Impact Flooring we provide a range of flooring solutions and have experience in factory flooring, warehouse flooring and automotive flooring. Our team offers an efficient and professional service, without cutting corners. To find out more about demarcations on factory flooring, get in touch.