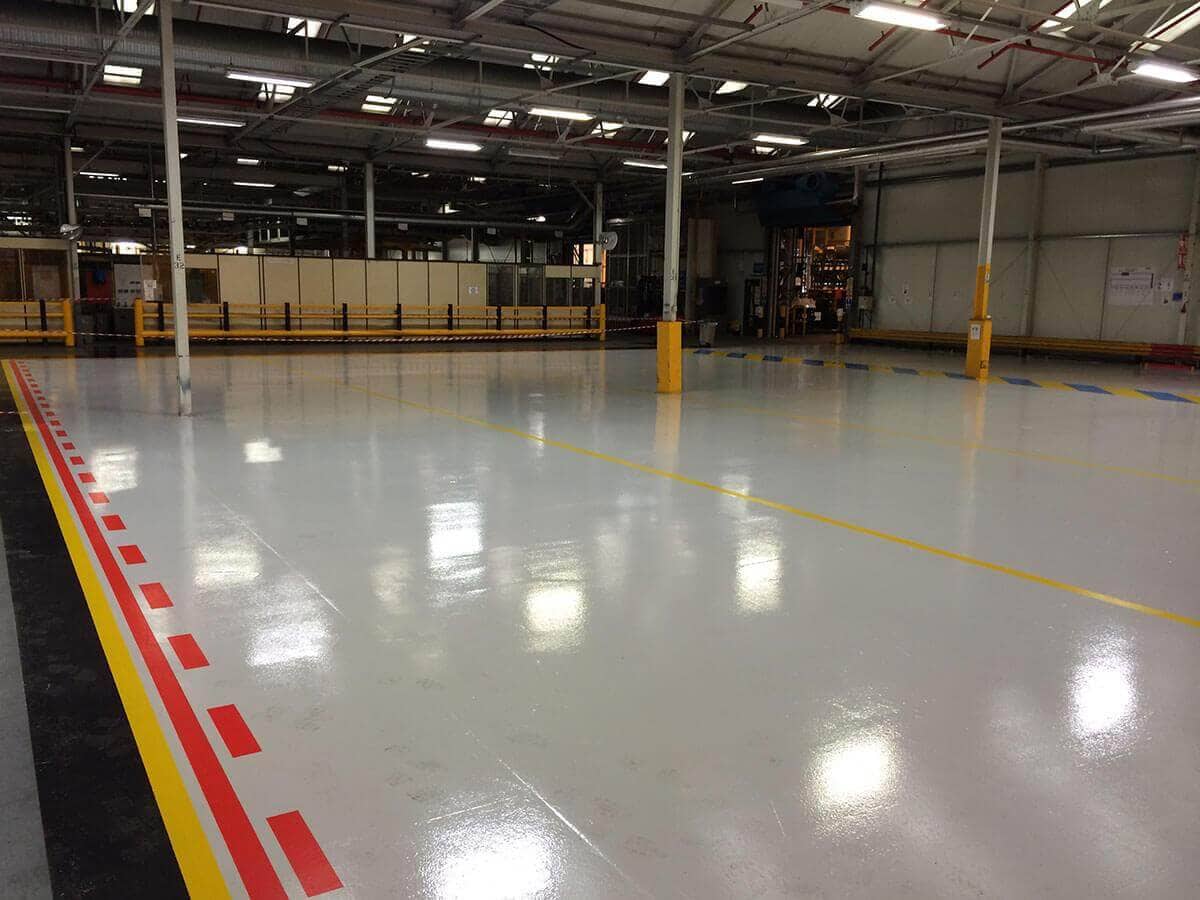 The UK's leading resin flooring specialist
The Advantages of Using Resin for Industrial Flooring
With an increasing reliance on productivity and safety, resin flooring has become a popular choice in many industrial settings. The qualities of resin have created a shift from traditional cement tiles to this more practical alternative for industrial flooring.
For those unfamiliar, resin flooring involves putting epoxy resin onto a concrete surface, which hardens to form a strong layer. This technique is particularly useful in industrial spaces because it is hard, inexpensive, and relatively easy to clean. Because of these reasons, some customers even opt to have this type of flooring in residential spaces too.
Industrial workplaces often put floors through many daily physical challenges – activities such as loading heavy equipment, forklift truck traffic, and not to mention spilling harmful corrosive chemicals; all mean that floors must be very robust. Therefore, it's essential for the right flooring to be in place to maintain a safe, durable surface, functional for anything that is thrown at it.
There are different types of resin flooring, including epoxy and polyurethane. While the different types may differ in advantages and disadvantages, they are more durable and hygienic than other surfaces, making them an attractive choice for customers. Which type you choose to purchase will depend on your budget and the industrial activities the floor must withstand.
Different options include matte and gloss coatings depending on your preference, which can transform old, worn surfaces to create an incredible new look. Resin flooring may appeal to people looking for a quality, showroom-standard finish – the attractive look of the surface could fit with many different design plans.
Both epoxy and polyurethane coatings can enhance any interior and are designed to be easily cleaned. The "seamless" aspect that can be achieved with a resin floor can help protect against spillages and will remove any cracks where contaminants build up. In addition, its resistant qualities allow for high-pressure cleaning with hot water.
Health and safety are essential in any workplace, and the latest resin technology can satisfy many criteria in this regard. For example, using resin for industrial flooring will provide a smooth surface, although a non-slip surface dressing can be added if necessary as an extra safety measure. In addition, the flooring could enhance traction to reduce slipping and can even be specially textured to create even more slip resistance.
Aside from providing a non-slip surface, colour and bright signs on the floors are sometimes important in workplaces. For example, industrial flooring often requires demarcation to outline borders, access routes and other guidance for staff.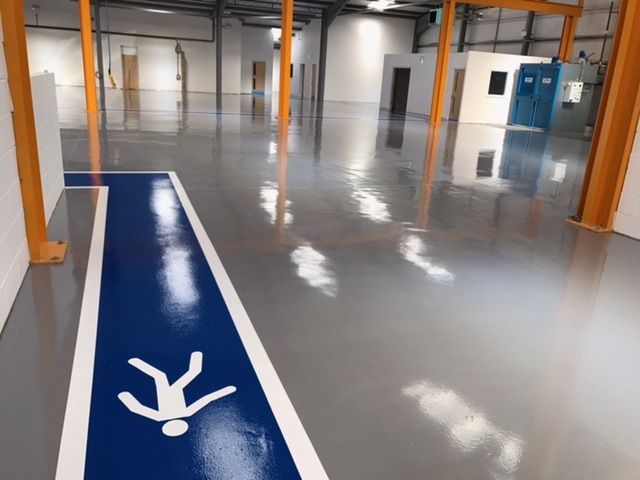 Flow applied resin flooring can be easily mistaken for paint, although it is a lot thicker, making it sturdier and much more long-lasting. The durability of resin flooring saves customers a lot of money over time as it will rarely need replacing compared to paint – which leaves floors unprotected from impact damage and scrapes.
We've only scratched the surface – pun not intended – when it comes to the advantages of resin for industrial flooring. There are many advantages to consider when scoping out a resin flooring and our team are happy to discuss all the options with you. Give us a call or drop us a message!