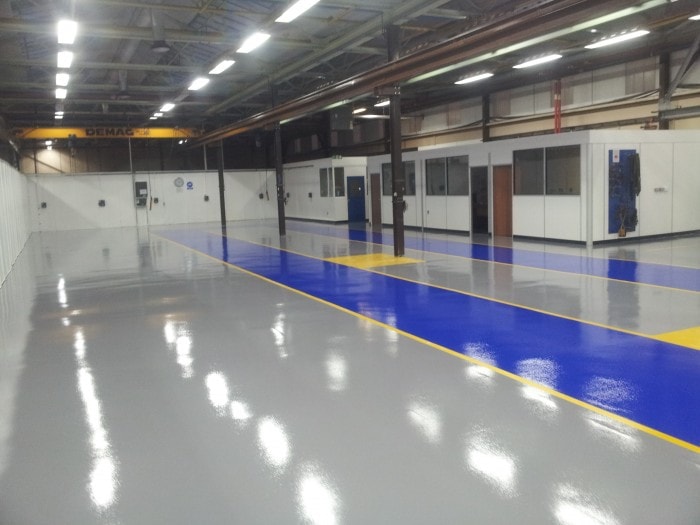 The UK's leading resin flooring specialist
Which Industrial Flooring Solution is Right for You?
It can be difficult to find a suitable industrial flooring solution since there are a variety of factors that will very likely impact the final decision. Among these factors is the cost of installation as well as the downtime involved in having the installation carried out.
Your choice for a good flooring solution shouldn't only be determined by cost. You also should consider safety, longevity, the floor's durability, and many other things.
Because there are different industrial, office, and commercial flooring options available, you should be fully aware of what you want your surface to be able to do.
Here are some pointers to help guide you:
Should the surface be slip/ moisture/ chemical resistant?
Will the surface have to withstand heavy traffic?
Will it need to be able to deal with plenty of footfall?
Will the surface need to cater to an expansive range of temperatures?
Does the surface need to meet certain specifications?
As a way of saving costs, there are many businesses that prefer the choice of a flooring solution that is not adequate in supporting their facilities' conditions. In turn, that can result in being a hazard for employees and also for customers and visitors. It can mean a lot of costly downtime for floor repairs. And, it can cause a business or facility to shut down so that the entire flooring system can be replaced.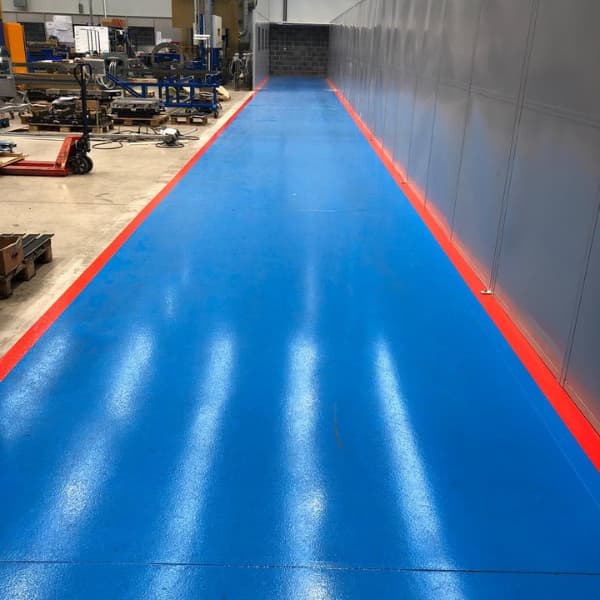 Why Install a Resin Floor?
Epoxy and resin floors have become a popular option across many industries from hospitality to food processing, to manufacturing, in restaurants, distribution centres, warehouses, transportation facilities, in commercial and retail facilities and more. Besides the fact that resin floors have an immediate wow factor, which is always an added bonus, resin flooring performs particularly well in most circumstances. For example:
Resin floors are resistant to impact
When a heavy-duty epoxy floor coating is installed it provides a high-traffic surface with the strength required to handle constant usage and extreme pressures. Standard concrete flooring is not always able to withstand severe abrasion, impacts, and high traffic. In this case, the flooring system will soon start to succumb to damage. The end result is the requirement for costly flooring removal which is time-consuming. It entails substrate preparation, repairs being made to the concrete, and then re-application.
Resistant to stains
Resin floors cater to a much quicker cleaning process than other types of floor surfaces. Further, resin floors save time and money in terms of making repairs to surfaces that have become stained.
Highly durable
Resin and epoxy flooring systems are stronger as well as being more durable than not only concrete but than any other flooring material. Resin and epoxy flooring systems come with a longer life cycle. They are cheaper to maintain and to repair since they can be either restored or replaced without the need to remove an existing floor.
Moisture resistant
For many facilities, a regular problem is when moisture seeps up via the concrete substrate. This causes delamination and blistering which is very unsightly. Moisture can greatly impact the performance of a flooring system while it will inevitably reduce the floor's lifespan.
Other Resin Floor Benefits
Besides the benefits listed above, resin floors are resistant to thermal shock, resistant to fire, they offer scratch resistance, they are easy to clean, and they are fast curing which means that installation is quicker.
If you would like more information on which industrial flooring solution is right for you, then please don't hesitate to get in touch with our friendly team.