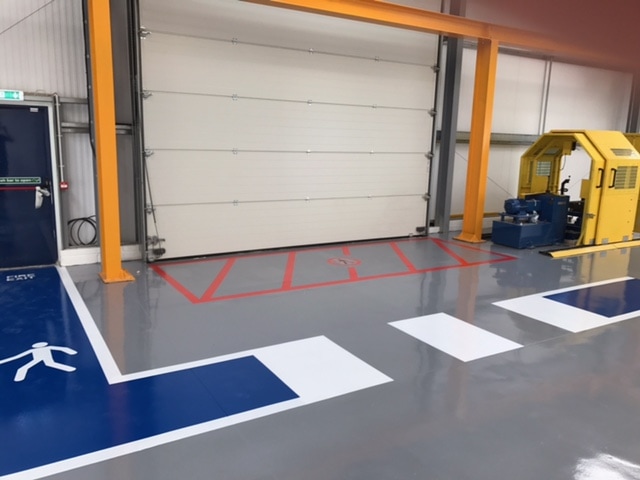 The UK's leading resin flooring specialist
Concrete Floor Repair for Industrial Workplaces
When it comes to industrial workplaces, a lot of businesses have chosen to have concrete floors installed. This is because concrete is strong, durable and works well under extreme usage. In fact, we often recommend concrete flooring to our customers. However, this doesn't mean that concrete floor doesn't require repair and maintenance eventually. In fact, over time a lot of concrete floors in industrial workplaces will begin to show cracks and damage, which is why concrete floor repair is necessary.
At Impact Flooring, as well as installing brand new concrete floors, we also repair those that are damaged. Whether it's general wear and tear that's caused the problem or an accident that has led to flooring damage, we're on hand to help.
Concrete Floor Repair for Factories and Warehouses
Concrete flooring is extremely popular in factories and warehouses but that doesn't mean it isn't liable to damage, cracks and erosion. Despite being one of the strongest flooring materials on the market, it can still be damaged; this is largely due to heavy machinery, daily use and industrial traffic. Though concrete flooring generally lasts a long time before it needs any form of maintenance, it's wise to keep an eye out for any potential damage.
The team here at Impact Flooring are able to offer a full range of concrete repair options so that damages of every severity can be repaired. Whether it's a small crack or a much larger problem, there are steps we can take. This often includes applying a resin coating or screed system to the floor, to improve its strength and ensure it's looking professional. We always recommend that concrete floor repairs be carried out as soon as possible in industrial workplaces, to prevent further damage from occurring. A lot of small cracks and abrasions can worsen over time, which makes repairs more difficult and more expensive.
Industrial Flooring Repair at Impact Flooring
We understand that accidents happen and materials weaken over time; this is the case for all types of industrial flooring. That is why the team at Impact Flooring work hard to carry out repairs as effectively and efficiently as possible. If you've noticed cracks are beginning to appear or if you're concerned that frequent use is causing damage, get in touch.
By contacting Impact Flooring, you're taking the first step towards having your concrete floor repaired by experienced professionals. Contact us today on 0247 648 7028 or online.