The UK's leading resin flooring specialist
What Is Warehouse Flooring?
In a busy warehouse, you're likely to find the toughest of flooring environments. And for good reason – many warehouse floors require a surface that can operate 24 hours a day, seven days each week. Many warehouses have to endure constant use by forklift trucks, pallet tracks, HGVs, and other types of heavy machinery, not to mention repetitive footfall.
Specialist Warehouse Flooring Coverings
Before choosing a flooring system warehouse management must consider the storage the facility provides. As an example, if the warehouse is home to explosive powders, corrosive chemicals, or to sensitive liquids or electronics, a warehouse floor that comes with safety features and static control is required.
In a medical supplies warehouse, the flooring will likely need to offer antimicrobial properties and be highly resistant to chemicals. Industrial food storage facilities, on the other hand, require governmental-compliant flooring. The Foods Standards Agency (FSA) and local authority employed environmental health inspectors are responsible for enforcing food hygiene law in the UK. Any non-compliance will result in swift and unrelenting action being taken.
Flooring Considerations for Warehouses
Warehouses frequently require flooring that is able to stand up to heavy loads and heavy impacts. Flooring specialists will tend to ask building managers some questions when deciding which flooring system will work best. Questions such as:
Is an acid-resistant coating required?
Is there a battery room/area on the premises?
What is the typical routine for cleaning and maintenance?
Will the warehouse host regular visitors?
Cleaning methods in warehouses vary quite substantially, depending on what's being stored and facility usage. The cleaning process can be made much more efficient with an appropriate warehouse flooring in place.
Epoxy Floorings Systems in Warehouses
Given time, a concrete flooring system in a warehouse will likely become spalled, pitted, and will start to deteriorate. If the deterioration is caught in time, refurbishment can be very economically provided, which will result in a skid-resistant, sanitary surface that offers plenty of durability as well as impact resistance.
When a very economical, durable, and safe solution is needed, the flooring system's lifecycle can prove to be among the most important factors that should be considered. Obviously, for the heavy industry warehouse setting whereby the flooring experiences non-stop traffic from forklift trucks and various other forms of traffic, warehouse flooring systems will need to withstand persistent impacts, high levels of compression, and the test of time.
Concrete warehouse flooring systems that are coated are superior in terms of functionality and longevity. There's likely a constant operation of forklift trucks, pallet jacks, and other machinery and this could cause damage to a basic concrete floor.
With an epoxy flooring system, a warehouse floor will benefit from added protection allowing concrete floors to withstand constant abrasion and impact from equipment in addition to corrosive chemical substance spillage.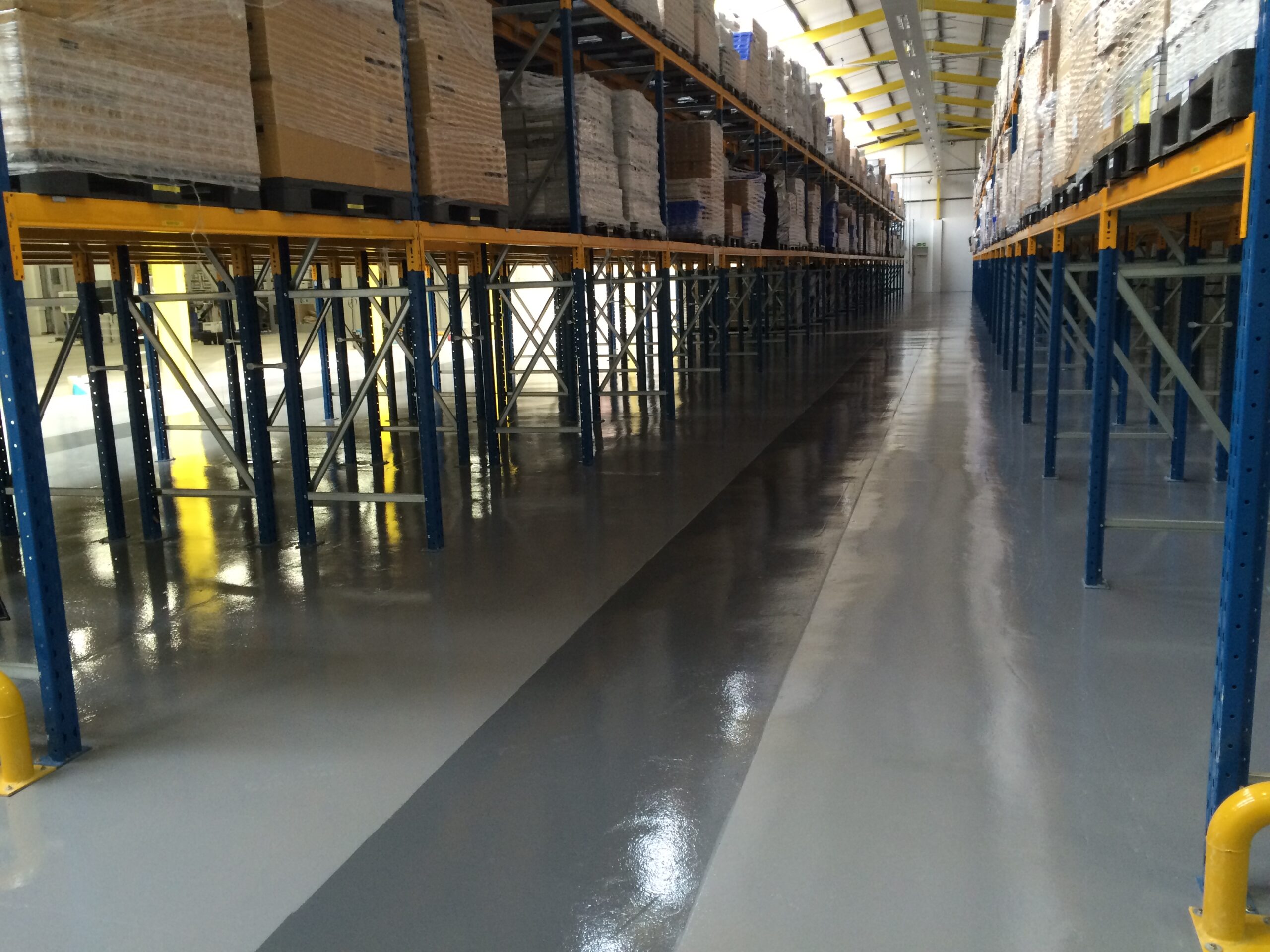 At Impact Flooring Services we offer a warehouse flooring line that's among the most comprehensive available today. The team at Impact Flooring is available to advise depot and storage facility managers, which is the optimal resin flooring for their requirements. We have the high-performance flooring system that's 'just right' for any situation. If you would like to learn more, then please get in touch!